Living on Holzhalbinsel Rostock
Urban development plan + competition
Housing association WIRO wants to complete a small district on the Holzhalbinsel, a peninsula in the mouth of the Warnow near the historic centre of Rostock, by building 160-180 houses on the basis of an architecture competition. In 2012, IAA Architects was commissioned by WIRO to create the urban development plan that served as the basis for the competition.
Urban living surrounded by greenery with a view over the river
The urban development plan describes exclusive and modernly designed residential building construction in a park-like environment on the banks of the Warnow. The constructions consist of a U-shaped 4-5 storey apartment block that fits into the existing street pattern and four 4-9 storey residential towers located right at the river. Penthouses are located on the upper floors of the buildings and underneath the buildings, there is a parking garage.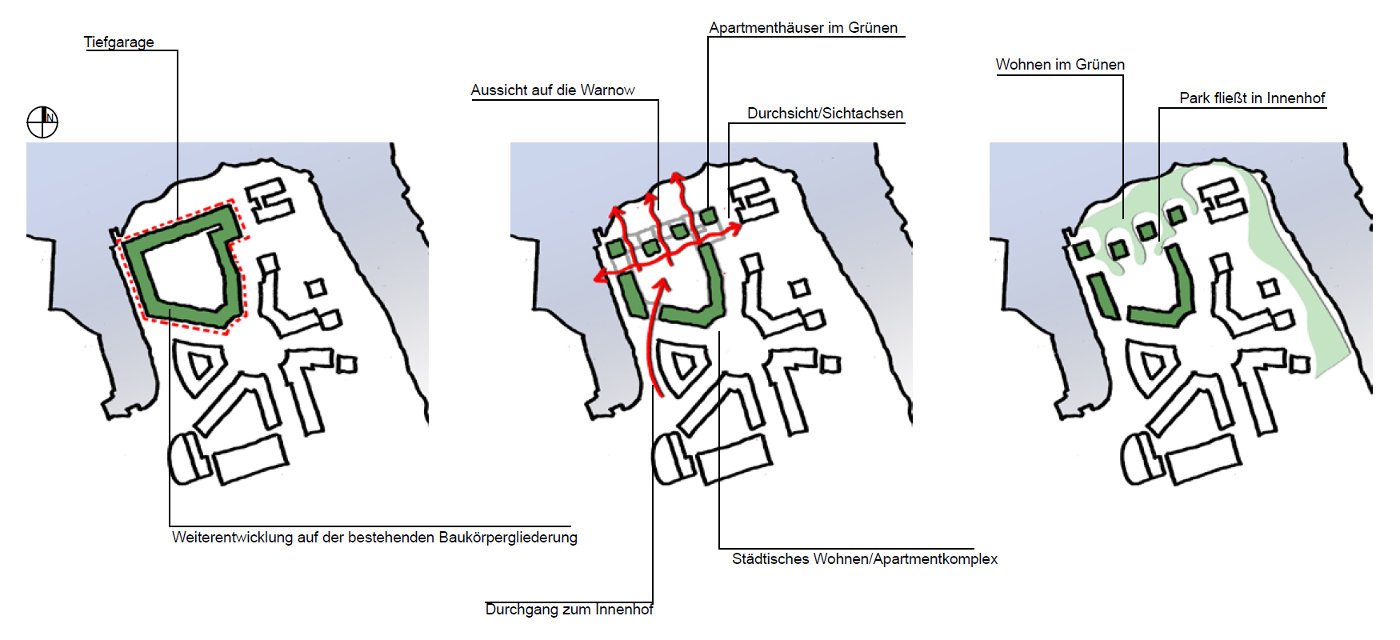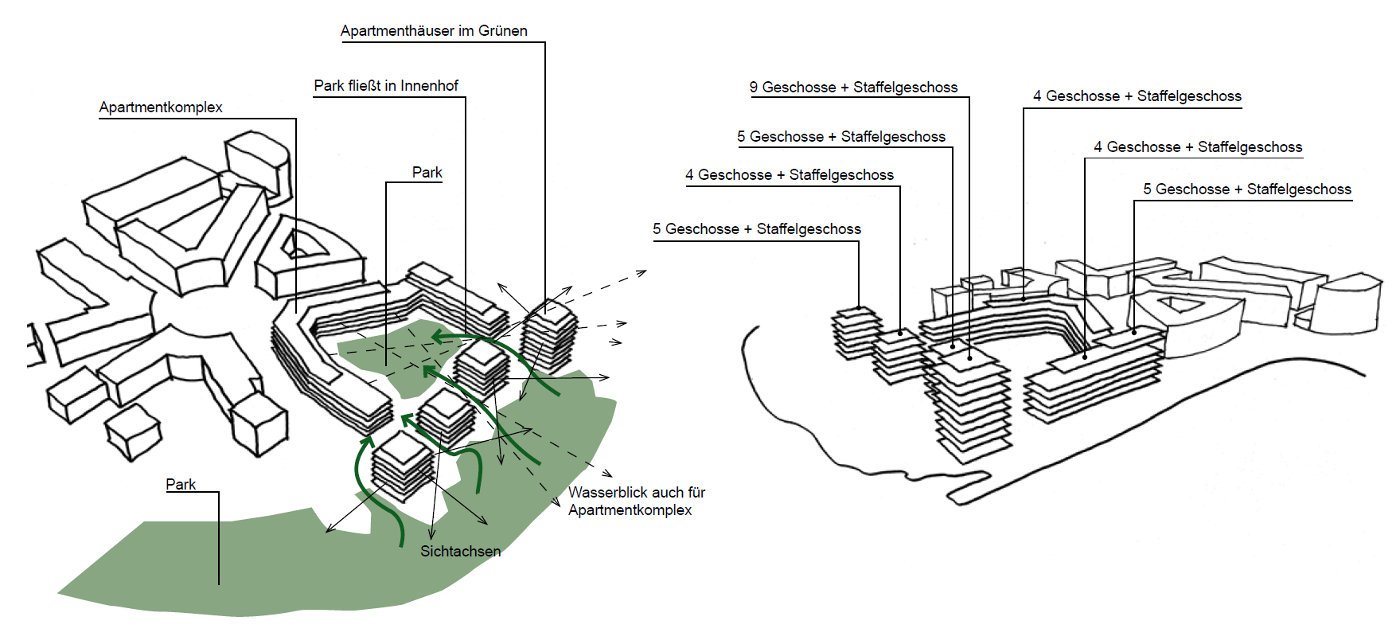 In order to realise a varied living climate on the Holzhalbinsel, space has been made for shops and small businesses on the ground floor. All apartments are well-served and have a view of the river and the greenery between the new constructions. The apartments are available in different sizes and have a two-sided orientation. In addition, they are horizontally and vertically switchable and suitable for different resident groups.
COMPETITION ENTRY BY IAA ARCHITECTS
In the refinement of the plan, cohesion and affiliation form the basis for the design of the buildings and public space. The uniform and consistent choice of materials and detailing ensure that the towers and the kinked apartment block are a 'family'. The public space is coherent because the green park zone along the river penetrates into the heart of the area.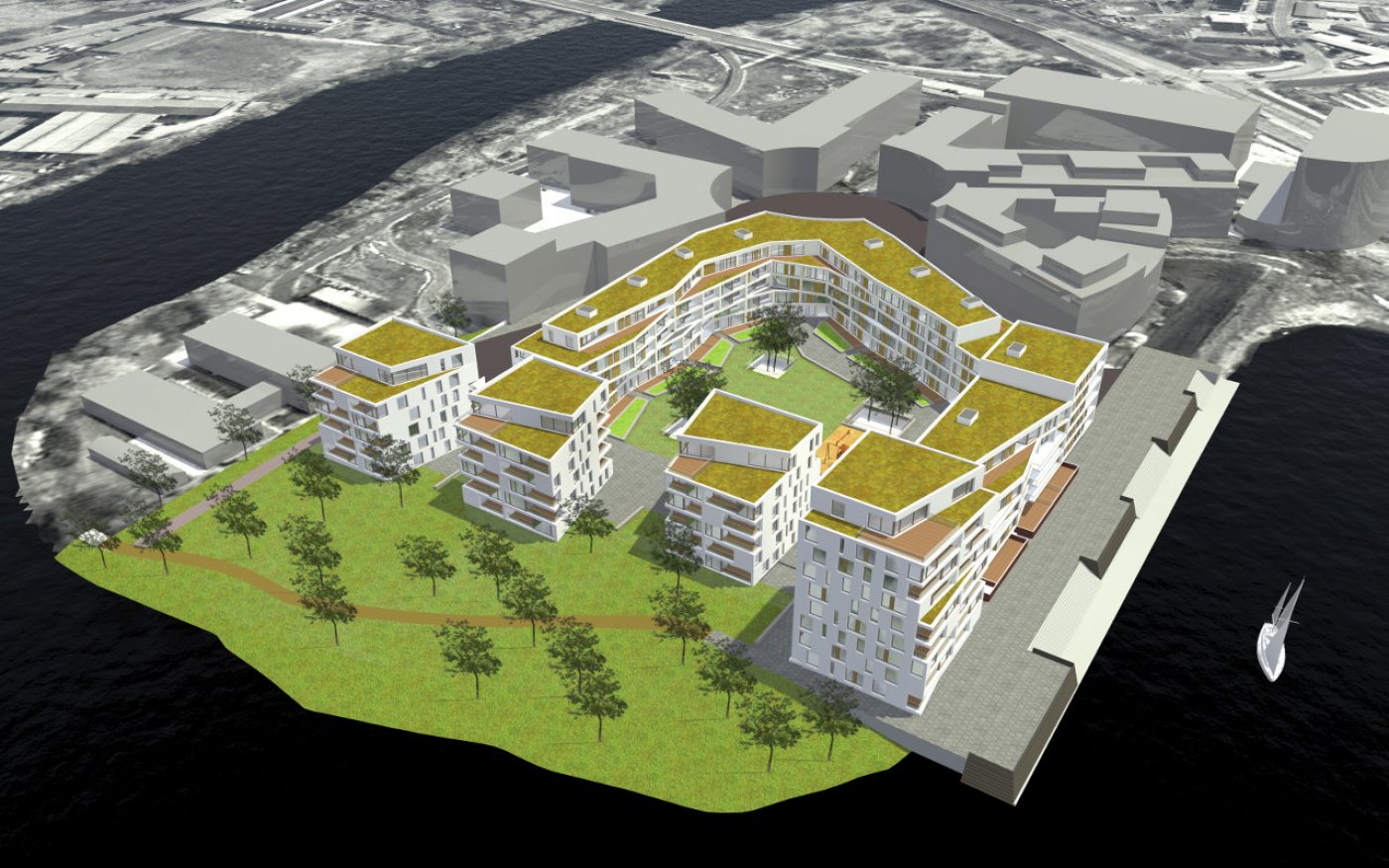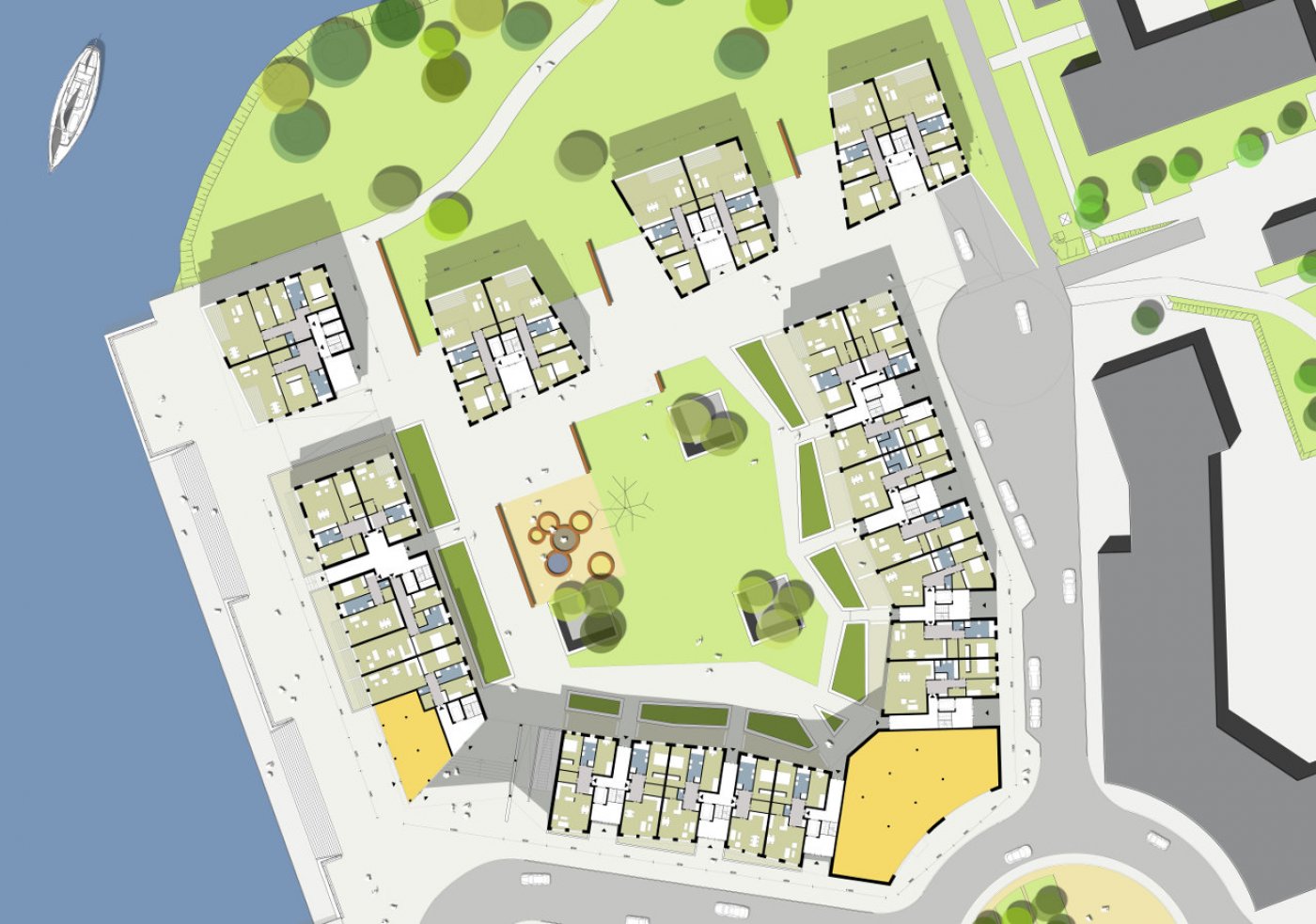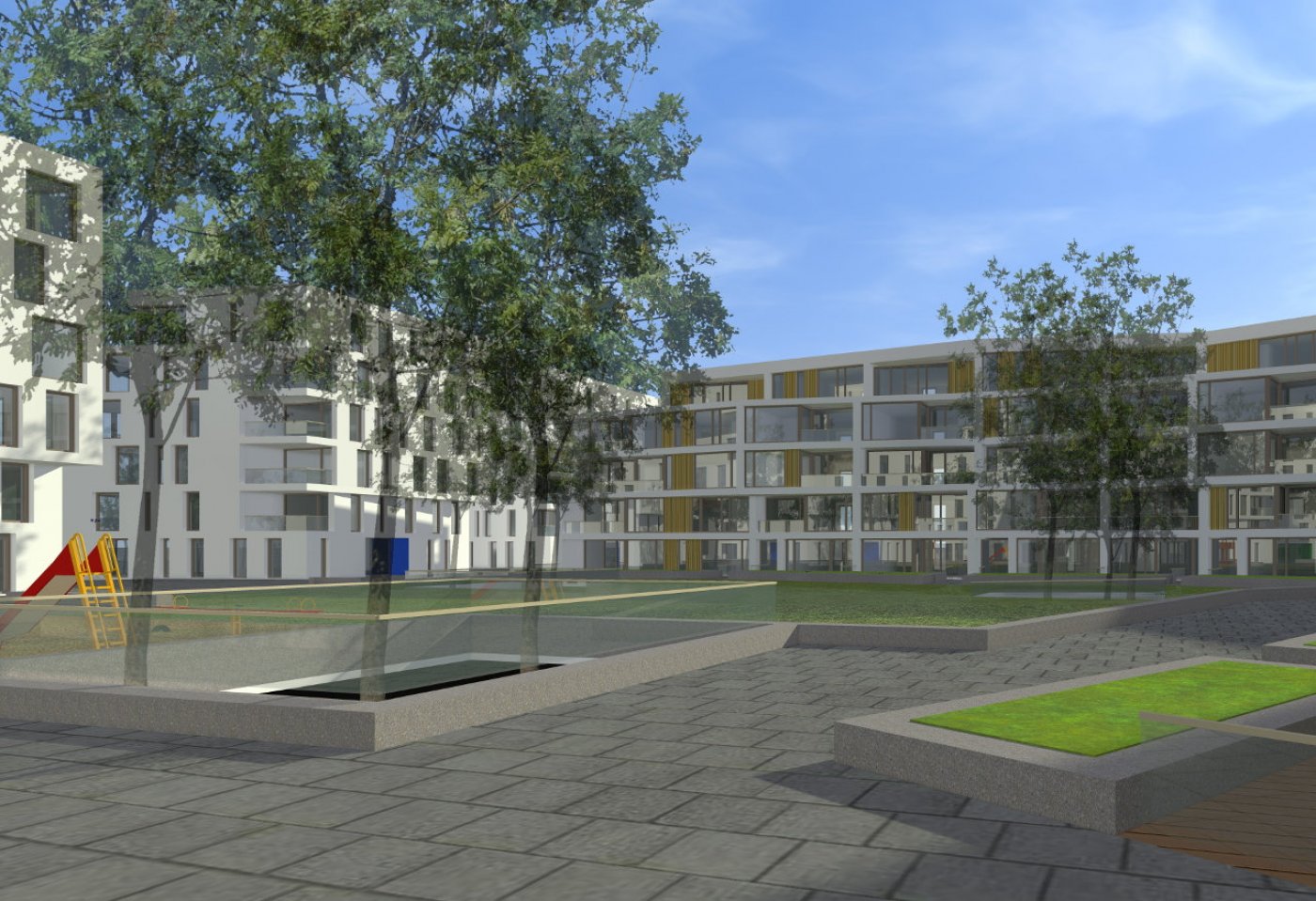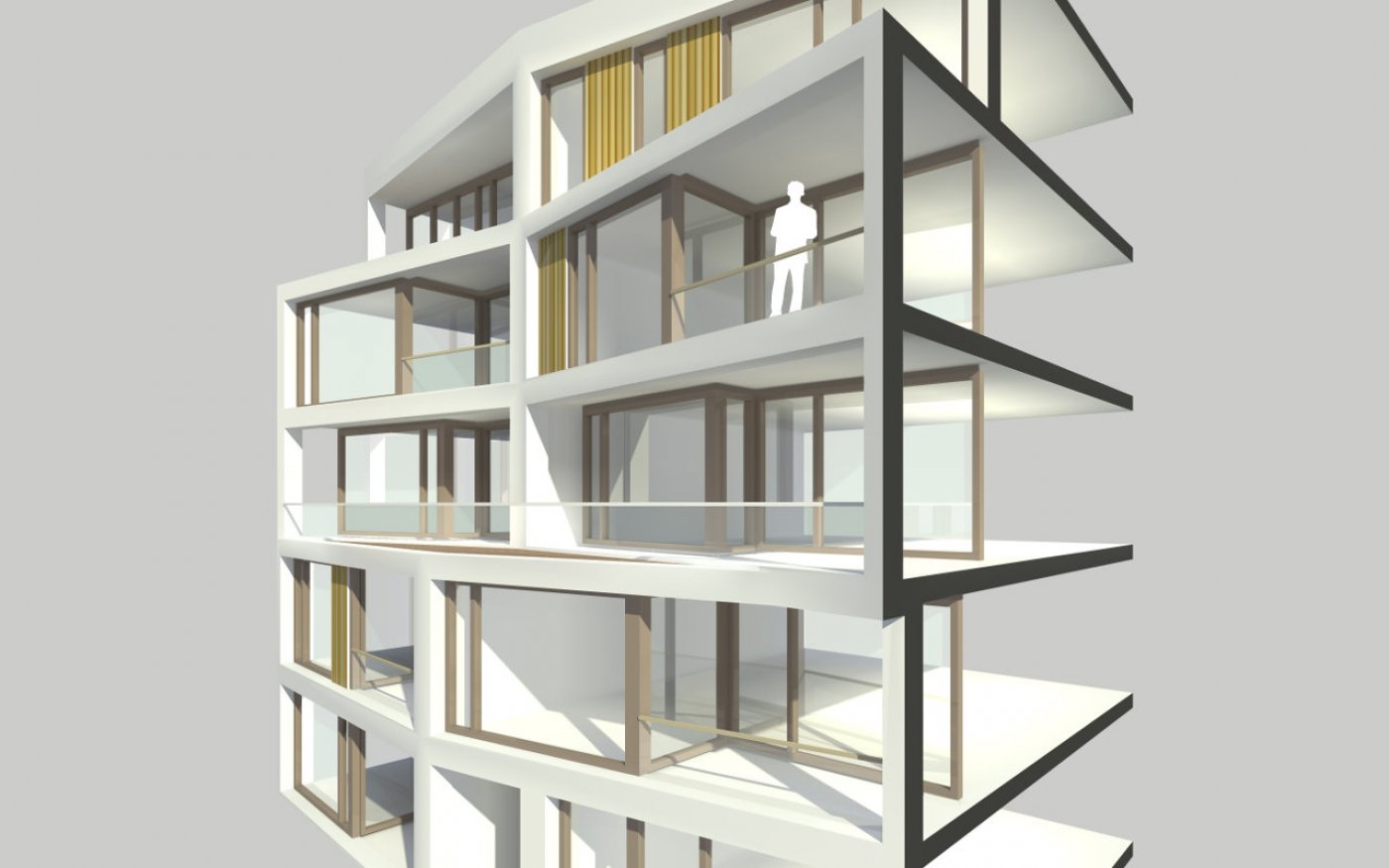 Since views and sunsets are not self-evident in a semi-closed building block, the facade is more or less twisted for each apartment so that they all have roughly the same qualities. At the same time, the dimensions of the windows are fixed: large on the sunny side (the living area), small on the shadow side (the sleeping area). These differences give the building a human dimension.
The white facades not only contrast with the older buildings on the Holzhalbinsel, but also contribute to the liveability of the new district by reflecting the light. Furthermore, the view over the park and the river, together with the chosen architecture, creates a unique living environment. Seen from the river, the new building looks fitting to Rostock's city silhouette, which consists of an alternation between brick and plaster facades.
The competition entry was awarded second place.