Rest and rehabilitation surrounded by nature
Care hotel De Zwanenhof
In 1927, Redemptorist retreat house St. Josef, where Catholics from Twente could go to nurture their inner life, opened its doors in Zenderen. Prompted by the changing spirit of the times, St. Josef was rechristened Bezinningscentrum De Zwanenhof (Reflection Centre De Zwanenhof) and since then, opened its doors to both religious as well as non-religious people. Ultimately the financial means of the priests could not keep the centre afloat and the building together with its convent garden was sold and renamed De Zwanenhof, centrum voor training en verdieping (centre for training and spiritual deepening).
Responding to healthcare developments
After the 2009 pilot of Logeerhuis Twente (Lodging House Twente) in De Zwanenhof - originally meant to offer informal caregivers the opportunity to relax -, part of the building was refurbished as a care hotel and in 2014, healthcare insurers officially recognised De Zwanenhof as a care and convalescent home. Due to the increasing demand for courses and care arrangements, De Zwanenhof needed additional space and decided to build a new care hotel. The new location is meant for people who are recovering from surgery and cannot yet function independently at home, for informal caregivers, for people who suffer from burnout-like symptoms, but also for athletes to recover after an injury or treatment.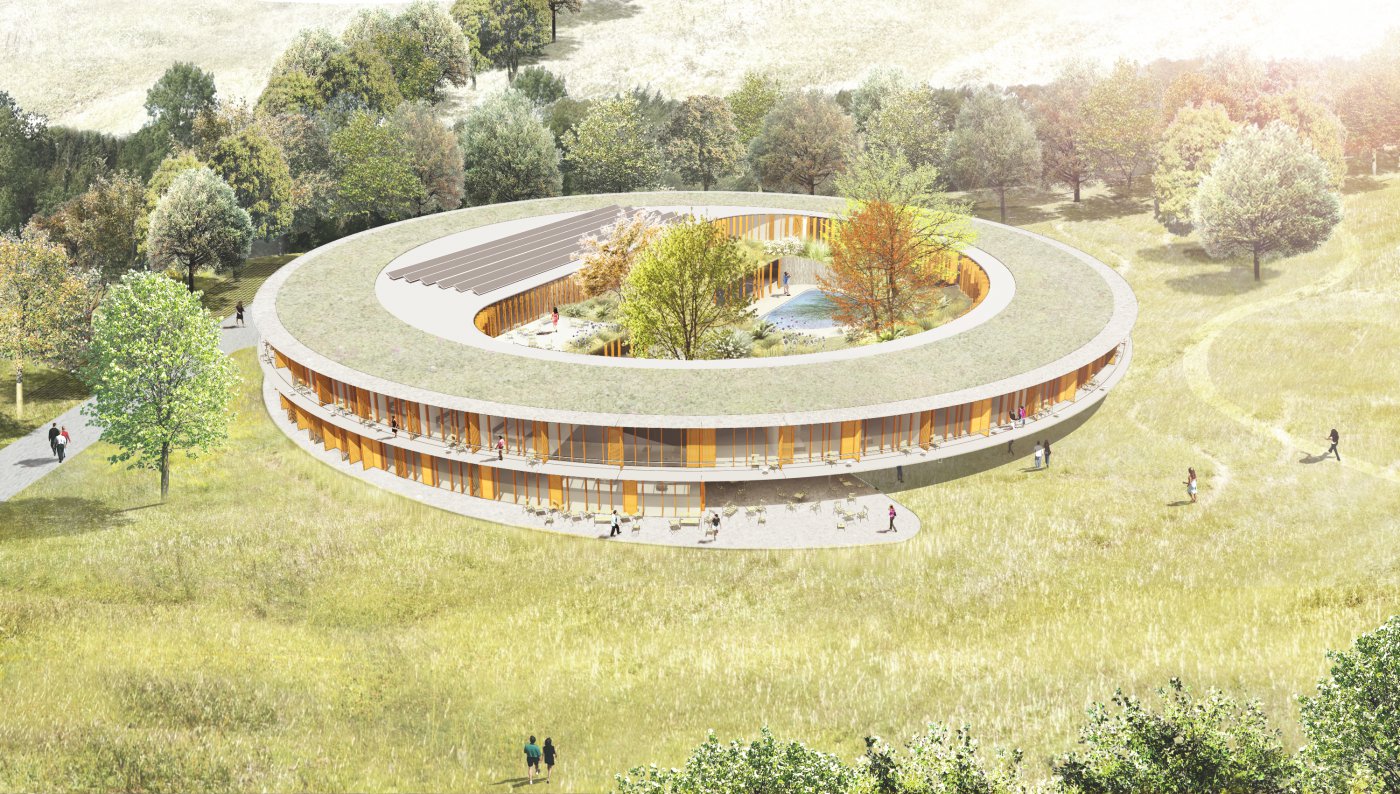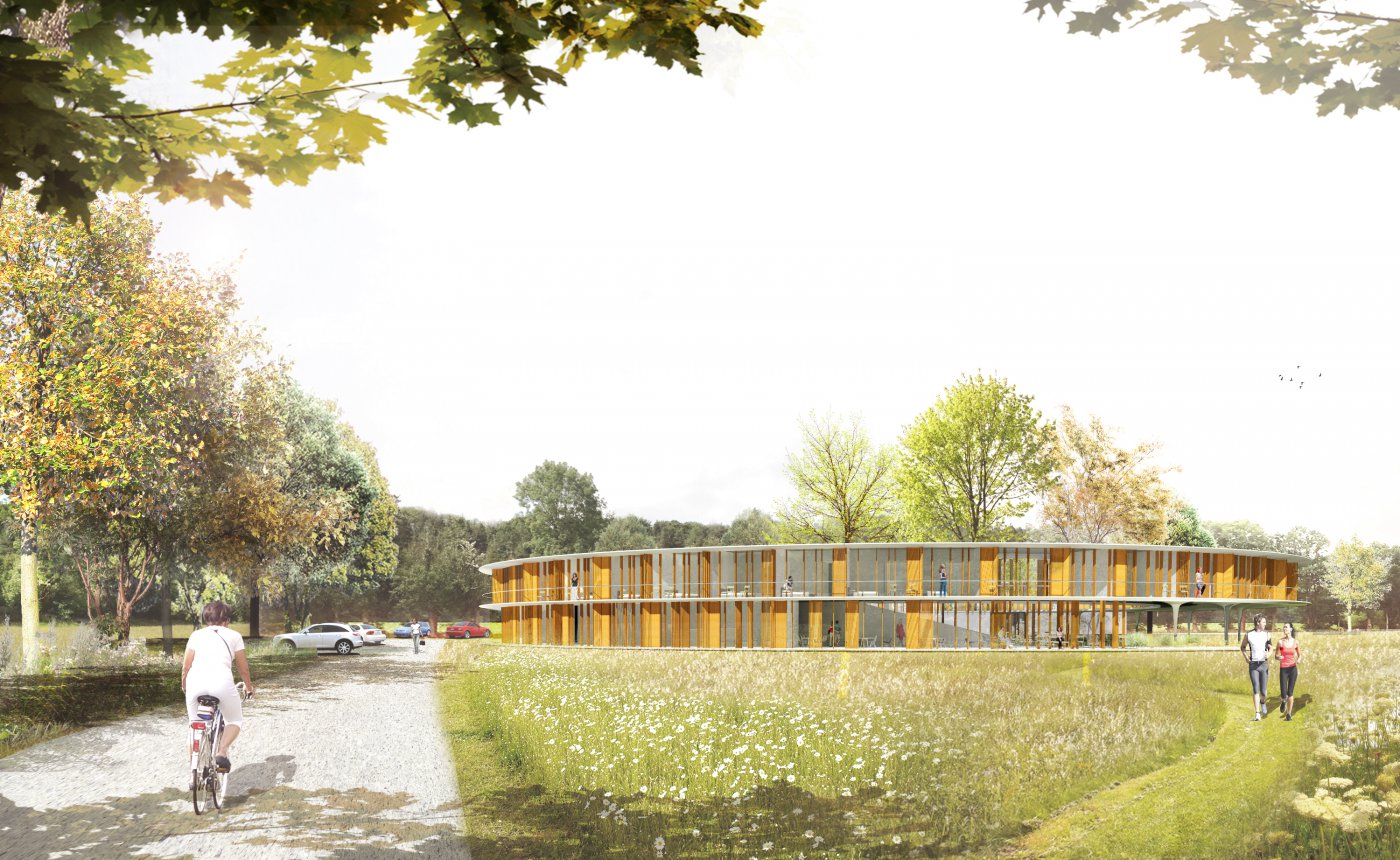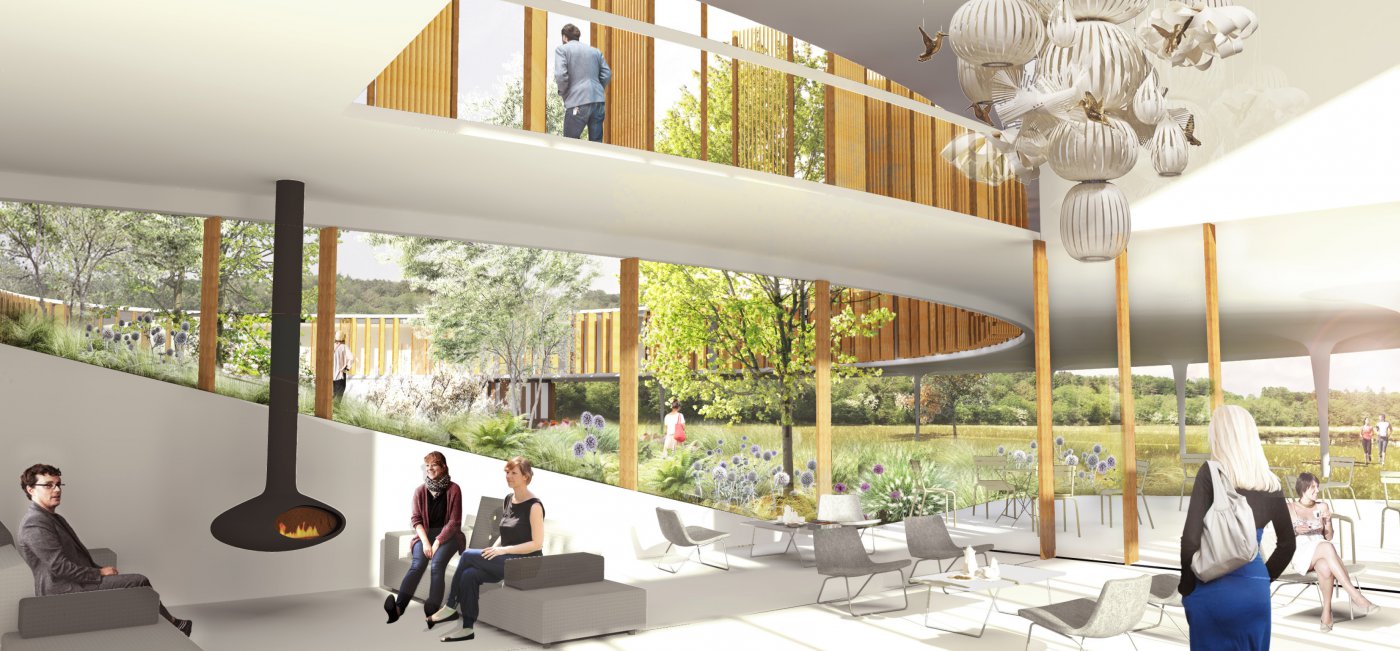 AT ONE WITH NATURE
The two storey care hotel has a round shape and works as a neutral counterpart to the symmetrical retreat house. On the side of De Zwanenhof, a large recess is designed on the ground floor of the building, making the surrounding landscape seem to flow right into the private and sheltered enclosed garden. Besides sixty comfortable and modern rooms, the building is equipped with wellness facilities (including an indoor and outdoor pool), a sports centre and gym, treatment rooms and a restaurant with a terrace. Each hotel room has its own view and character thanks to a favourable position to the sun and the round shape of the building. The facade is largely made of glass, which allows the guests to experience their green surroundings even while they are indoors.
Flexible and energy neutral design
The sixty 30m2 rooms can be linked in twos by using a communicating door, for example for an invalid person and their caregiver, parents and their children or a sports team. When the communicating doors are removed, the two rooms can be combined to create a suite or an apartment.
De Zwanenhof aims to attain the Excellent level of the BREEAM sustainability label for the new building. The roof is laid with sedum, which helps drainage and serves as natural isolation, and it is equipped with solar panels to supply the building with energy. These panels have specialised equipment for maximum efficiency with different incidences of light. The building will not be connected to the gas network, instead, two pellet stoves provide hot tap water and heating for all rooms. The latter is supported by low-energy water pumps that pull heat and cold from the surrounding air to use in heating and cooling of the building.
A project in collaboration with NOHNIK