Wanted: vision for outlying area of Eastern Netherlands
The BNA Local Network 'Oosting' is organising sessions on 24 November 2022 and 26 January 2023 to explore the spatial challenges in the outlying area of the Eastern Netherlands using debate and design power. We are going to do this together with Francesco Veenstra (Chief Government Architect), Shera van den Wittenboer (advisor Landscape and Heritage CRa), Peter Boelhouwer (professor of 'Housing Systems' TU Delft), Jeroen de Willigen (creative director De Zwarte Hond) and Michael van Buuren (designing researcher and Landscape Architect WUR).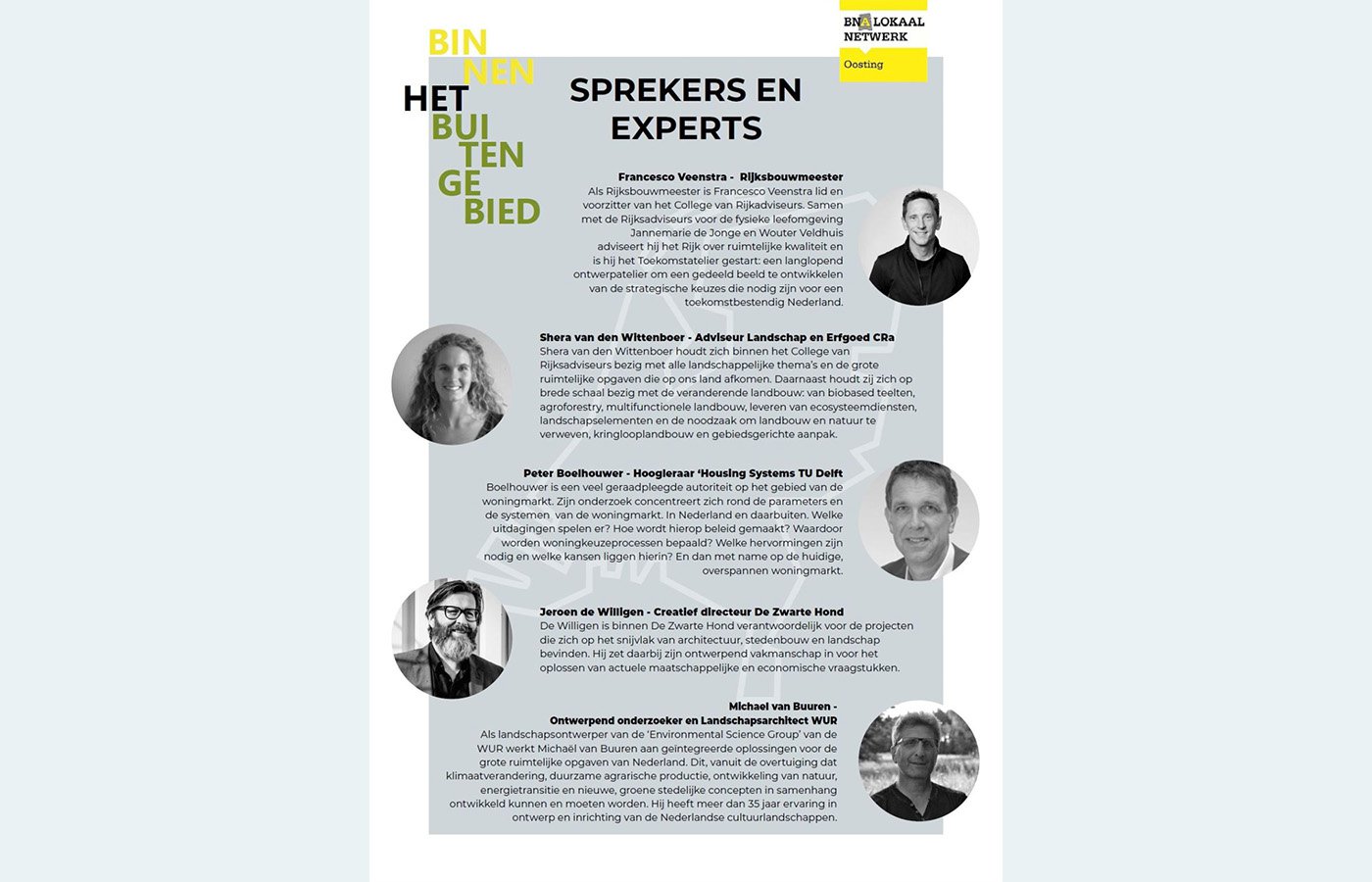 Debate and design sessions 'Inside the outlying area'
Do you see opportunities and have ideas on how we can come up with solutions for developing the outlying area with the various challenges we face in the Netherlands? Then join us for our 2 debate and design sessions 'Inside the outlying area' where you can be inspired by various leading experts and have your design idea assessed.
What we ask and what we offer
Innovative ideas and designs for the layout and developments of the outlying area. We are looking at integral solutions that seem contradictory and at the same time need to be in sufficient balance for a sustainable society. We offer the opportunity for you to test and publish your ideas for a more sustainable society.
Programme and registration
Pitches and visions : 24 November from 16:00 – 19:00 'Inspiration for designing'. Pitches and visions from various experts in the fields of agriculture, nature, housing, urban planning & landscape and climate. Followed by a debate and the formulation of design propositions.

Presentation and assessment : Jan 26 from 16:00 – 19:00 'Assessment of the designs'. Presentation and assessment of the submitted design proposals by the experts and the chief government architect. Followed by a reflection on the results and a Q&A between participants, experts and audience.

How : submission, presentation and publication on 2 x A3 sheets.

Location : Parkgebouw Rijssen, Oosterhofweg 49, 7461BT Rijssen. Walk-in 15.45, start 16.00 hrs.

Contribution : €50 for the two sessions. This includes 2 refreshments and a meal on both evenings.

Subscription by email: oosting@lokaal.bna.nl