Proud of your vocational training!
KAMPUS
At Morsweg in Rijssen stands the revamped vocational training centre KAMPUS, building full of talent, the result of close cooperation between the business community in the Rijssen-Holten region and various vocational schools in the Dutch region of Twente. It responds to high-demand sectors such as construction, installation technology, but also healthcare and retail. This is where ROC van Twente, Bouwmensen, Zorggilde Reggestreek and REMO West-Twente find a joint location.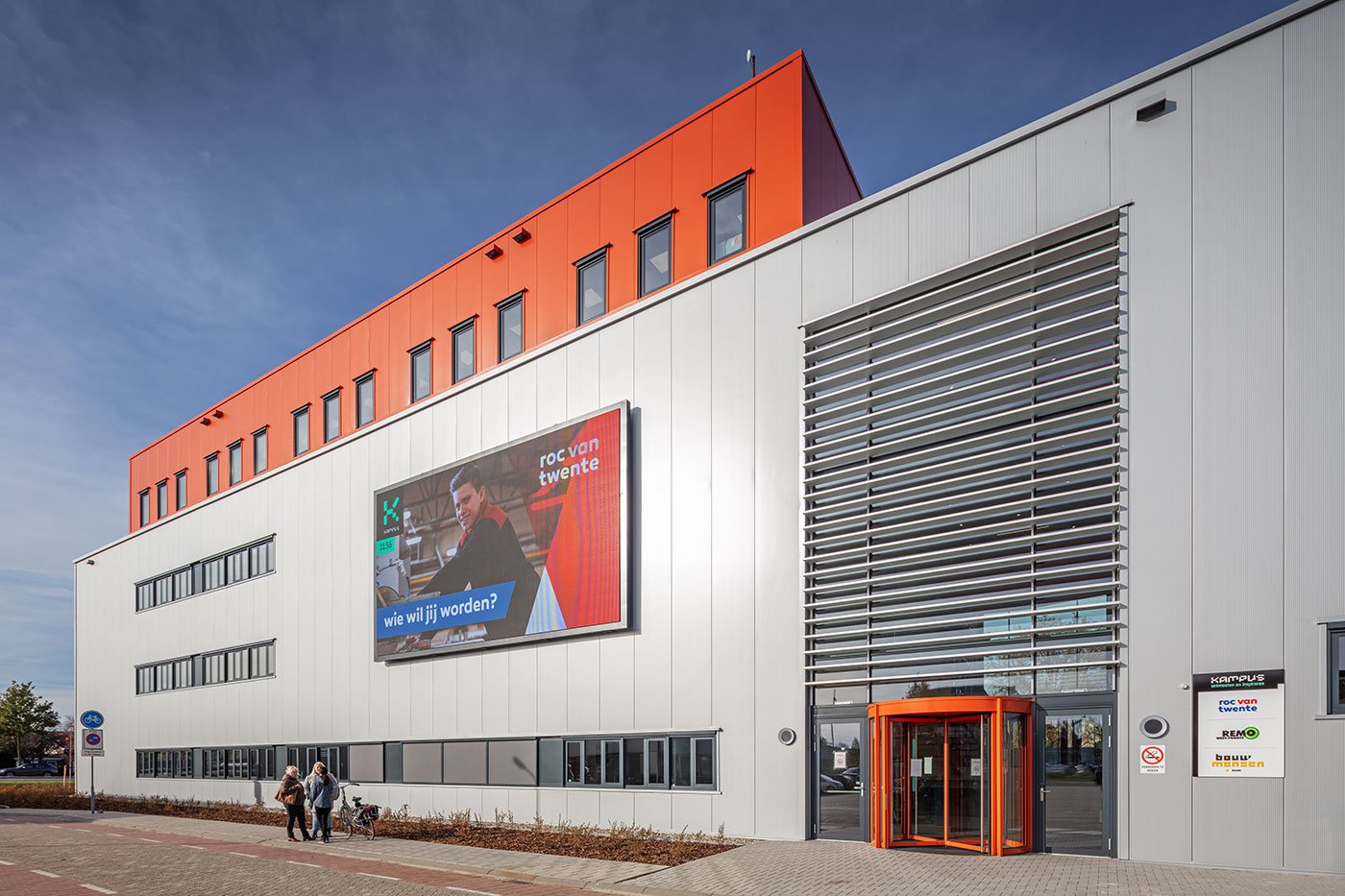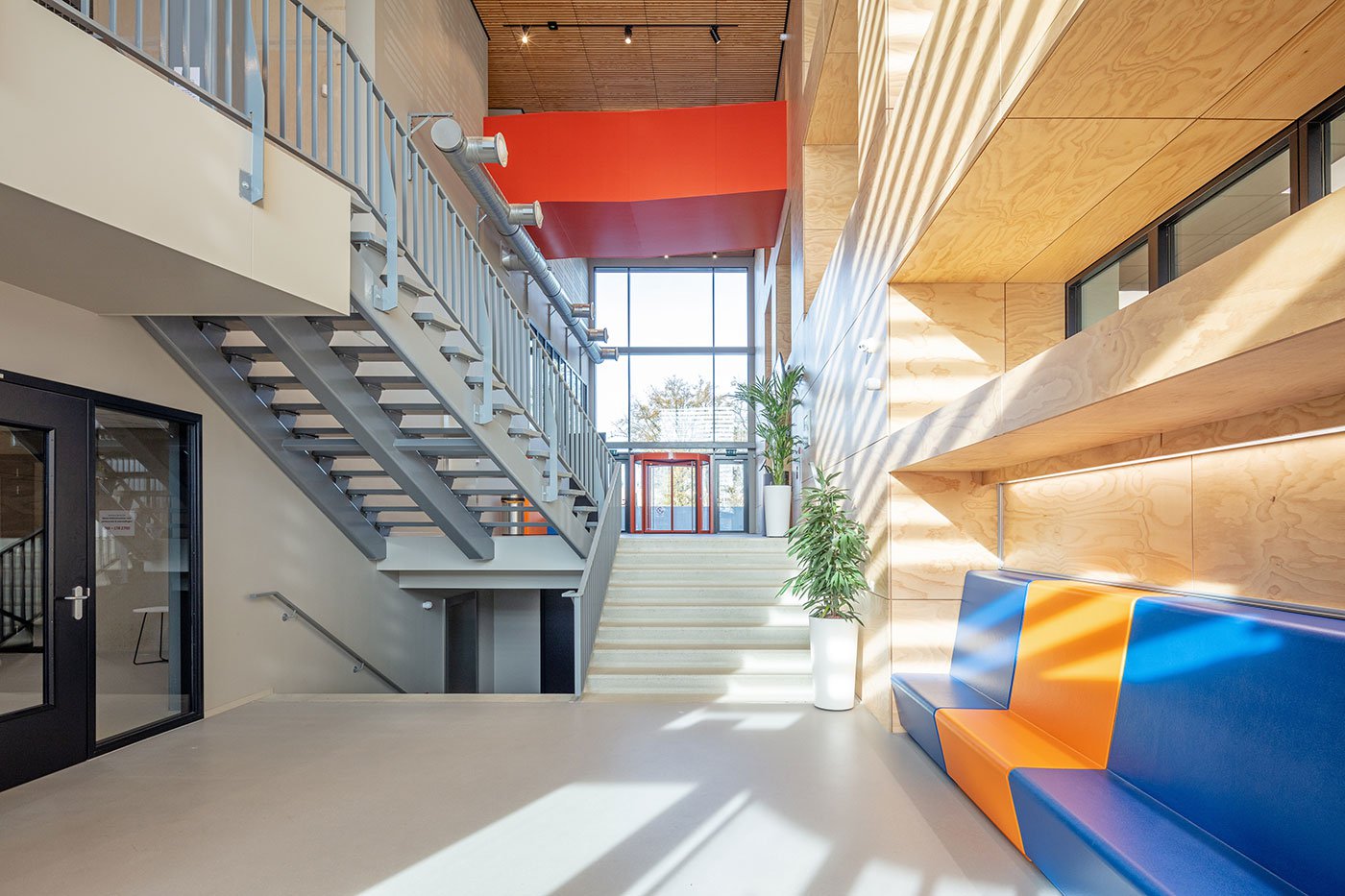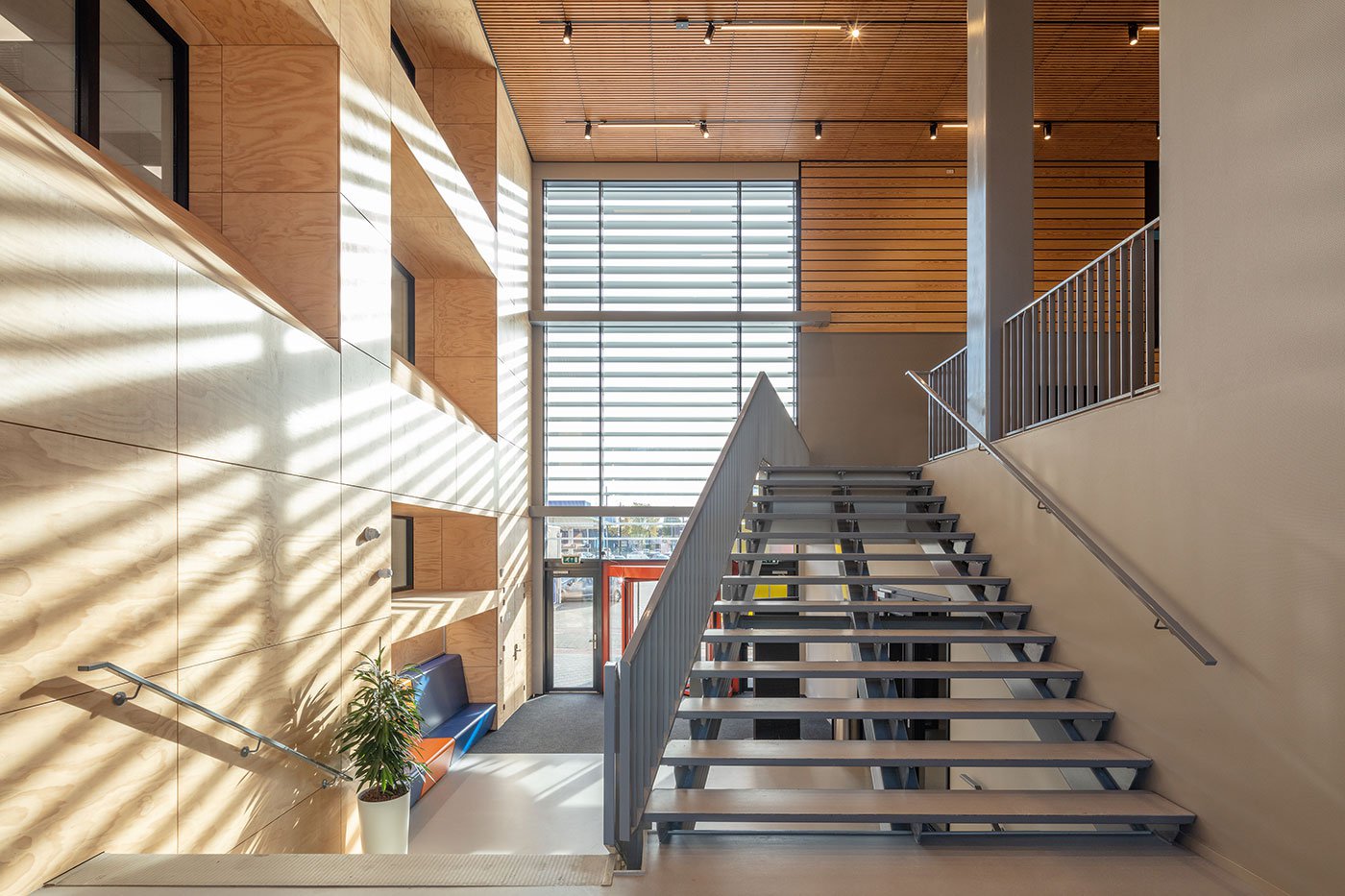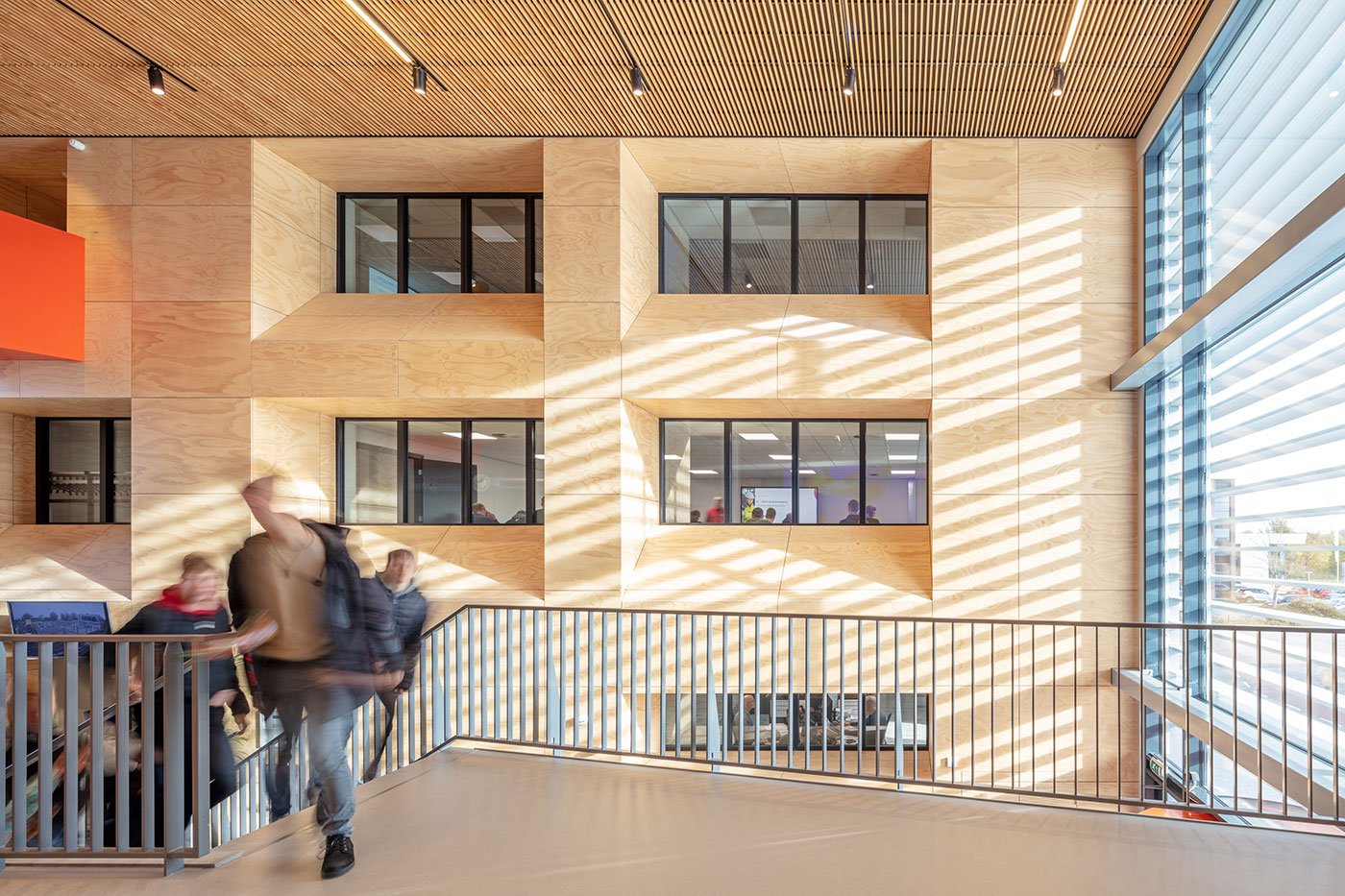 CROSS-POLLINATION
The starting point was the desire to bring together very different disciplines of practical education and business, with possible cross-pollination as a result. And not least important: the preservation of knowledge, skills and employment in Rijssen-Holten and the surrounding area. From now on, KAMPUS offers a stage to show how attractive construction, electrical engineering and care can be. The renovated building thus underlines the feeling that vocational education is something to be proud of.
Extension lengthens existing building
The new construction literally and figuratively extends the existing construction by REMO/Bouwmensen's, Ter Horst's former worsted yarn spinning mill: the proportions and materialisation have been picked up towards Morsweg. Where old and new constructions meet, is a high-ceilinged hall in which the central entrance is located. On the ground, second and third floors are general classrooms and combo rooms, and in case more courses would present themselves later: the new construction can be extended by two more floors.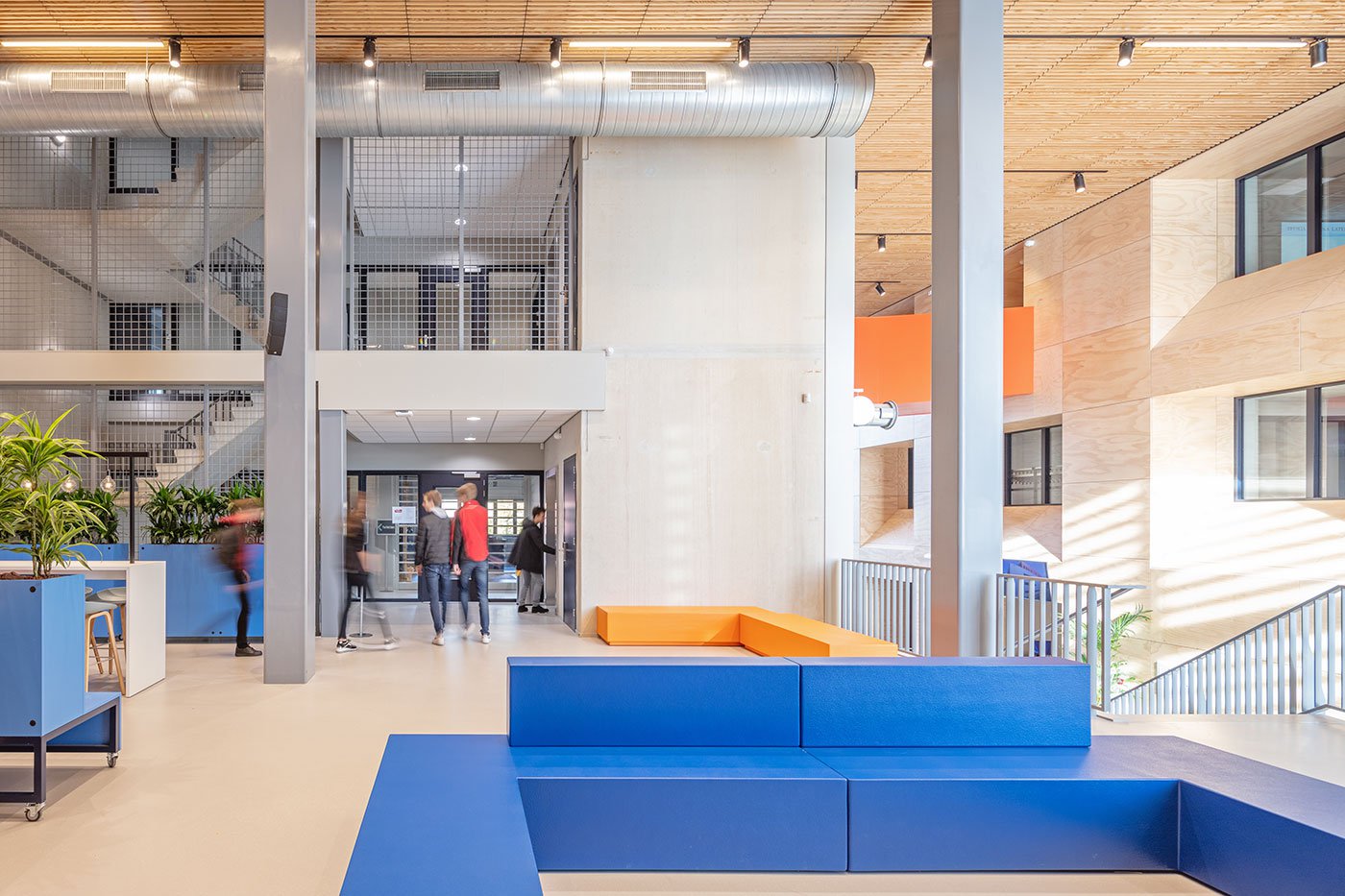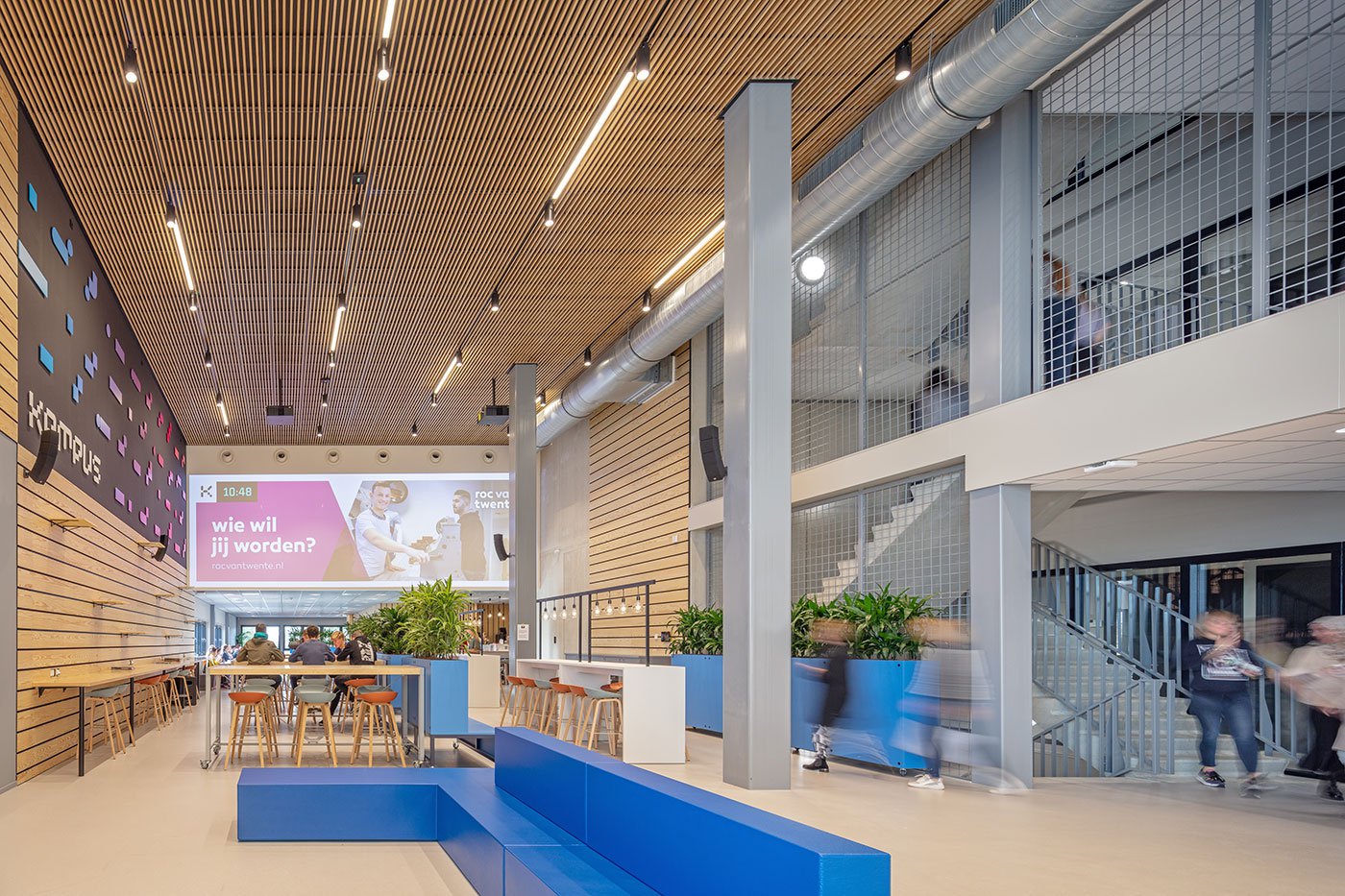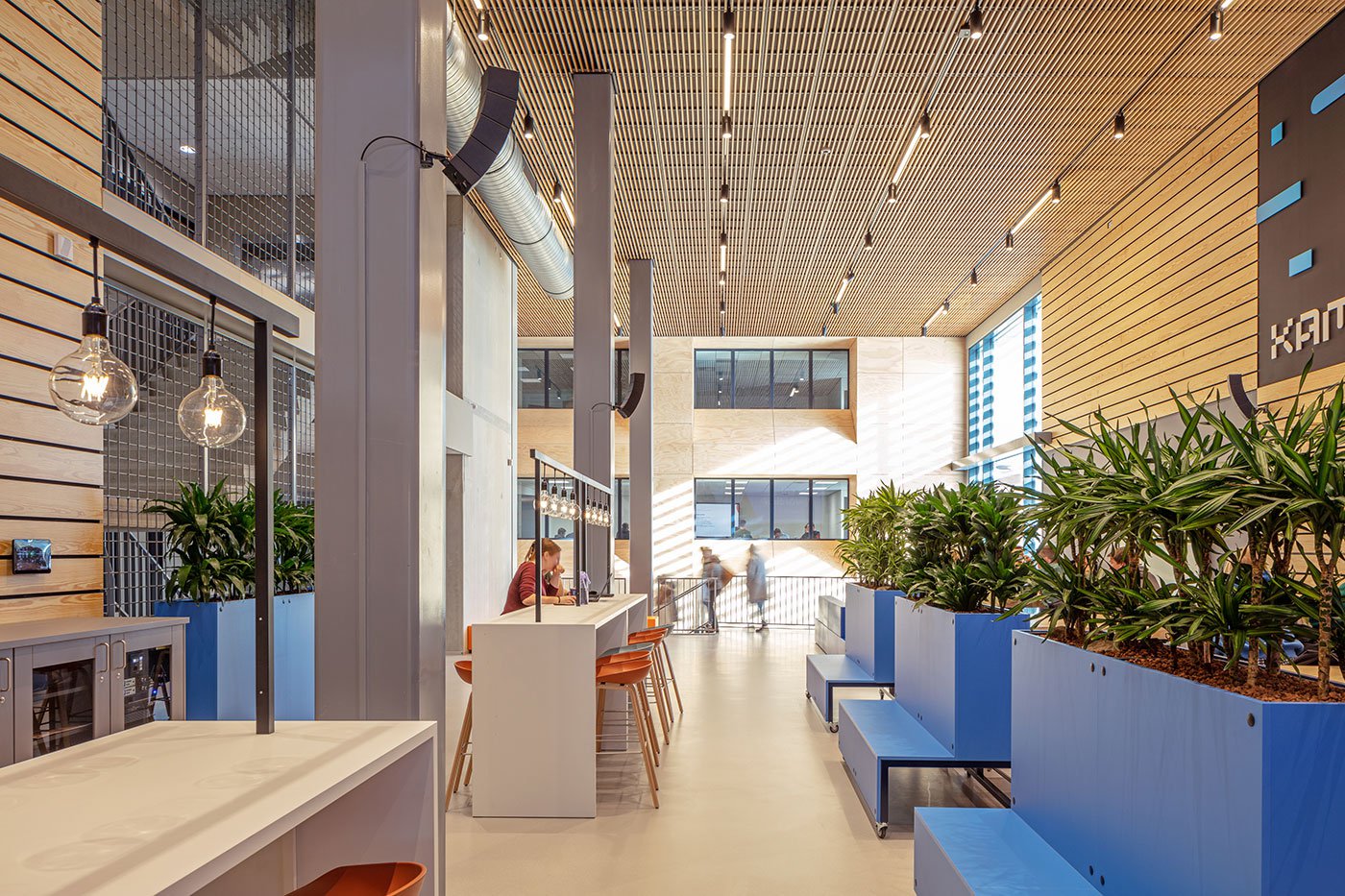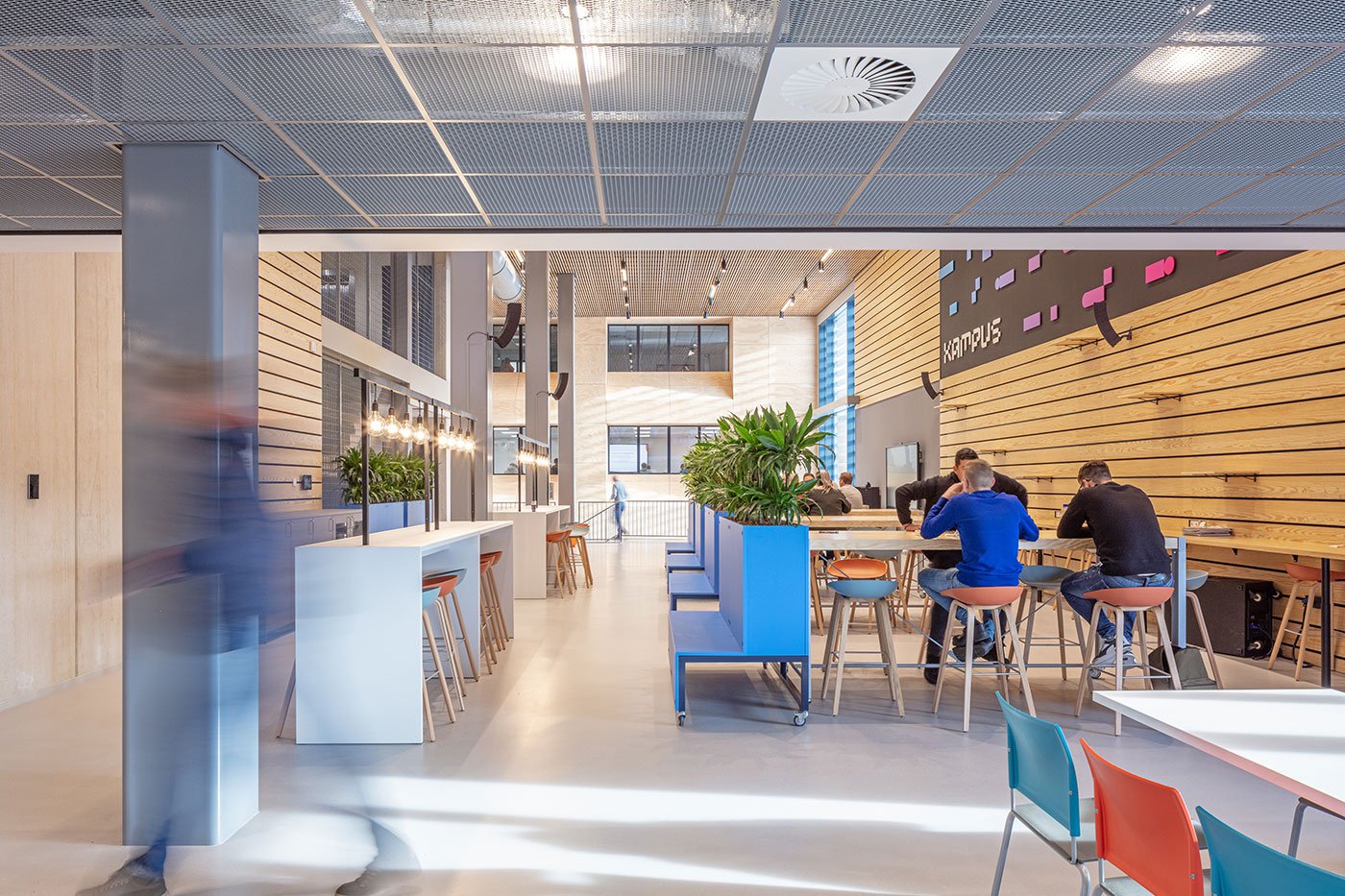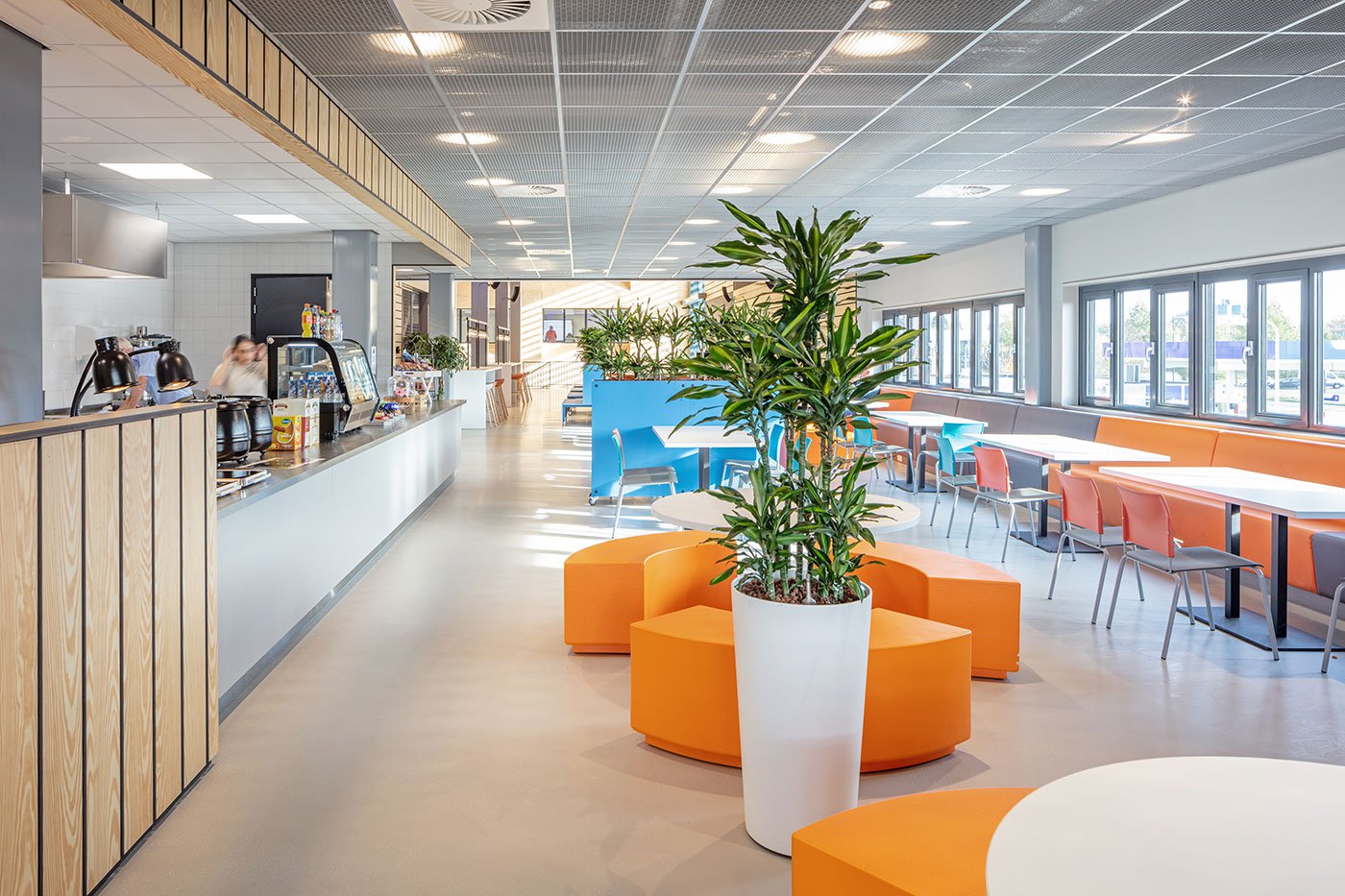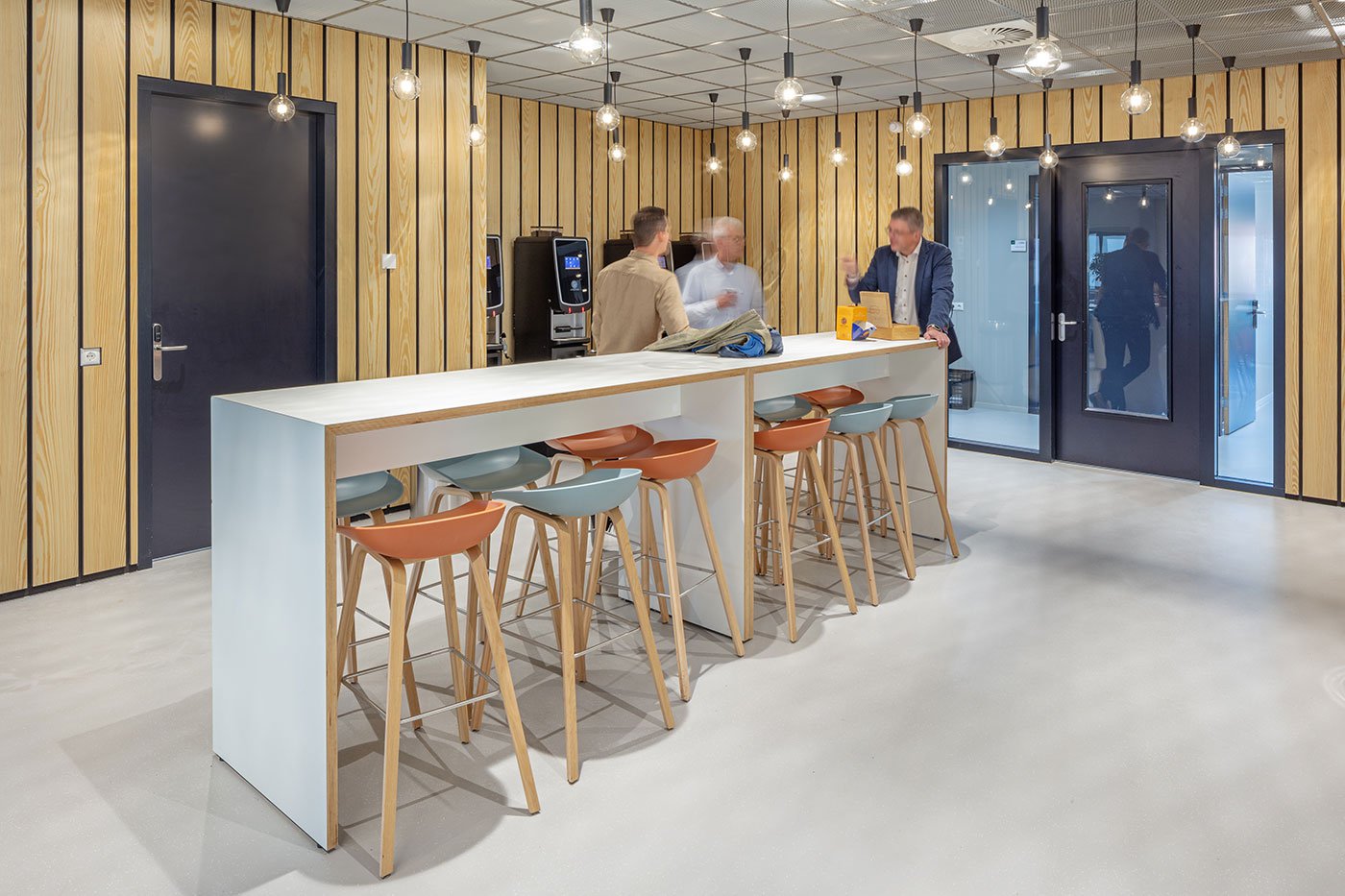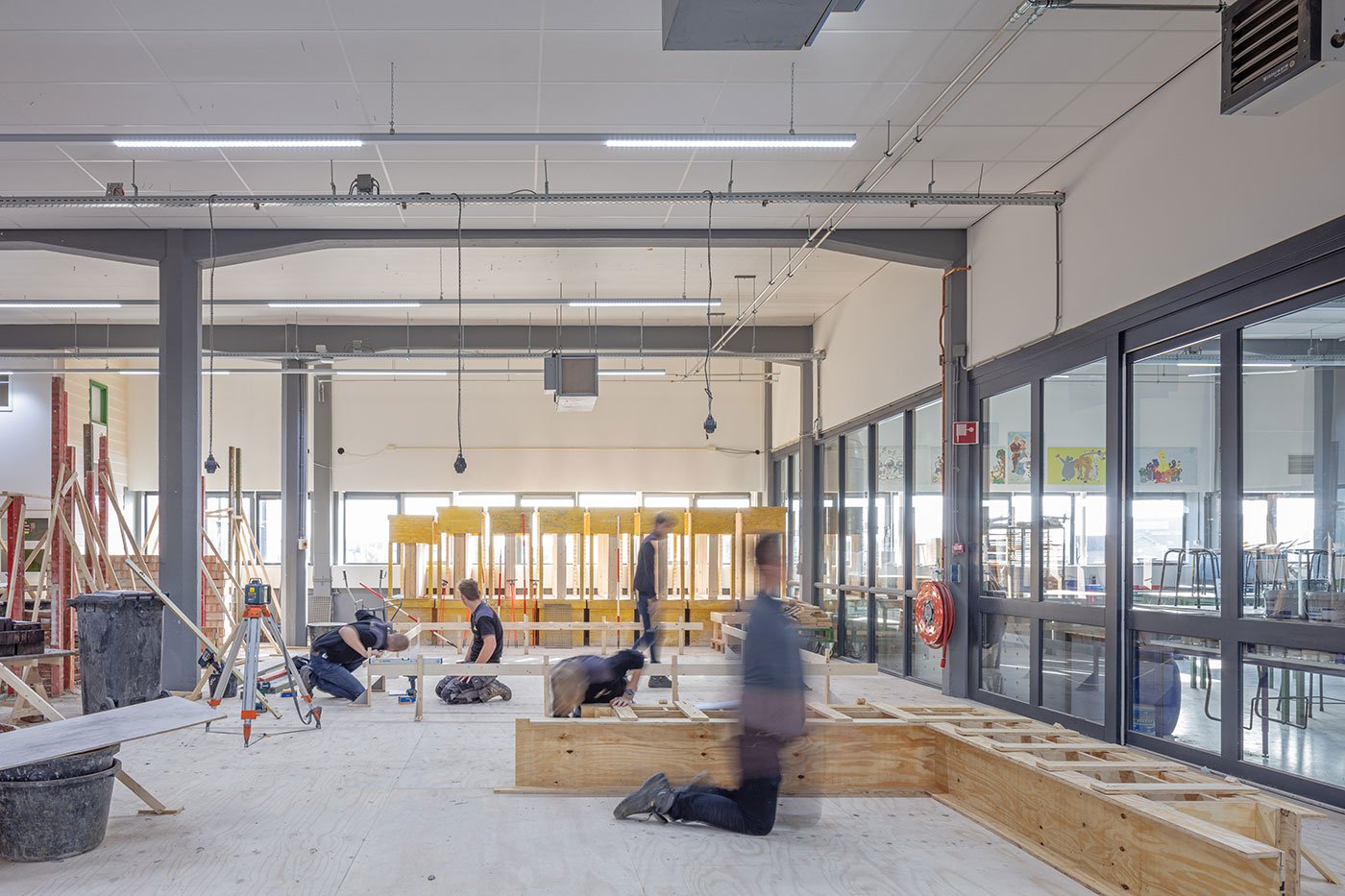 Experience Center as the heart of the new construction
In the extension, the heart of KAMPUS is formed by the Experience Center. Here, students, as well as visitors, can be inspired by innovations in their own field, as well as those of other disciplines. Companies can present themselves here and launch their innovations. The Experience Center also offers the space to learn new skills with courses, discover talents and then take them further.
Colour in the front façade and roof structure
The front façade has a colour accent that provides a visual counterpoint to the sober, technical colouring of the existing façade material. The same accent is also used for the roof structure, which underlines the length of the extended façade and will also form a logical intermediate member with a future elevation. The colour jumps out, which the building needs to ensure that KAMPUS is noticed.
With an aluminium-coloured exterior awning, the head is emphatically transparent and will show the dynamism of KAMPUS by day and by night. A large LED screen has been integrated into the side façade, providing a public stage for stories and events from the various courses.
Start of jump in scale and quality at Morsweg
The expansion also responds to a scale that is new for this part of Morsweg and thus anticipates the ambition of the Rijssen-Holten municipality to eventually realise a jump in scale and quality in this part of the existing business park.