Condo Competition Eindhoven won by IAA Architects with: Change the Scene
Last Saturday saw the award ceremony of the Condo Competition to create a flexible interior for a new residential tower to be constructed in Strijp-S in Eindhoven. Theo Franken had the honour to receive the first prize from jury chairman Jurgen Bey. The openness and transparency of the design in particular were experienced by the jury as distinctive. In addition, they said, because of the limited interventions in the space, it was still possible for residents to create a personal identity in their new home.
Click here to see the Jury report
The Eindhoven corporation Sint Trudo initiated the Condo Competition in February 2017, as part of the construction of the Condo Tower on Strijp-S. For this building, Sint Trudo introduces a new type of accommodation for the Netherlands: the condo. These are compact and therefore very affordable living spaces of about 50 square meters. The task was to design one or more elements that accommodate the necessary functions of a living space as well as to ensure that the condo is experienced as spacious, luxurious and in particular as surprising, in spite of its limited surface area. Sint Trudo aims to increase the diversity of the accommodation offer in Eindhoven with this competition, especially in De Driehoek in Strijp-S, and to stimulate innovation in the affordable accommodation offer and intends to implement the winning design.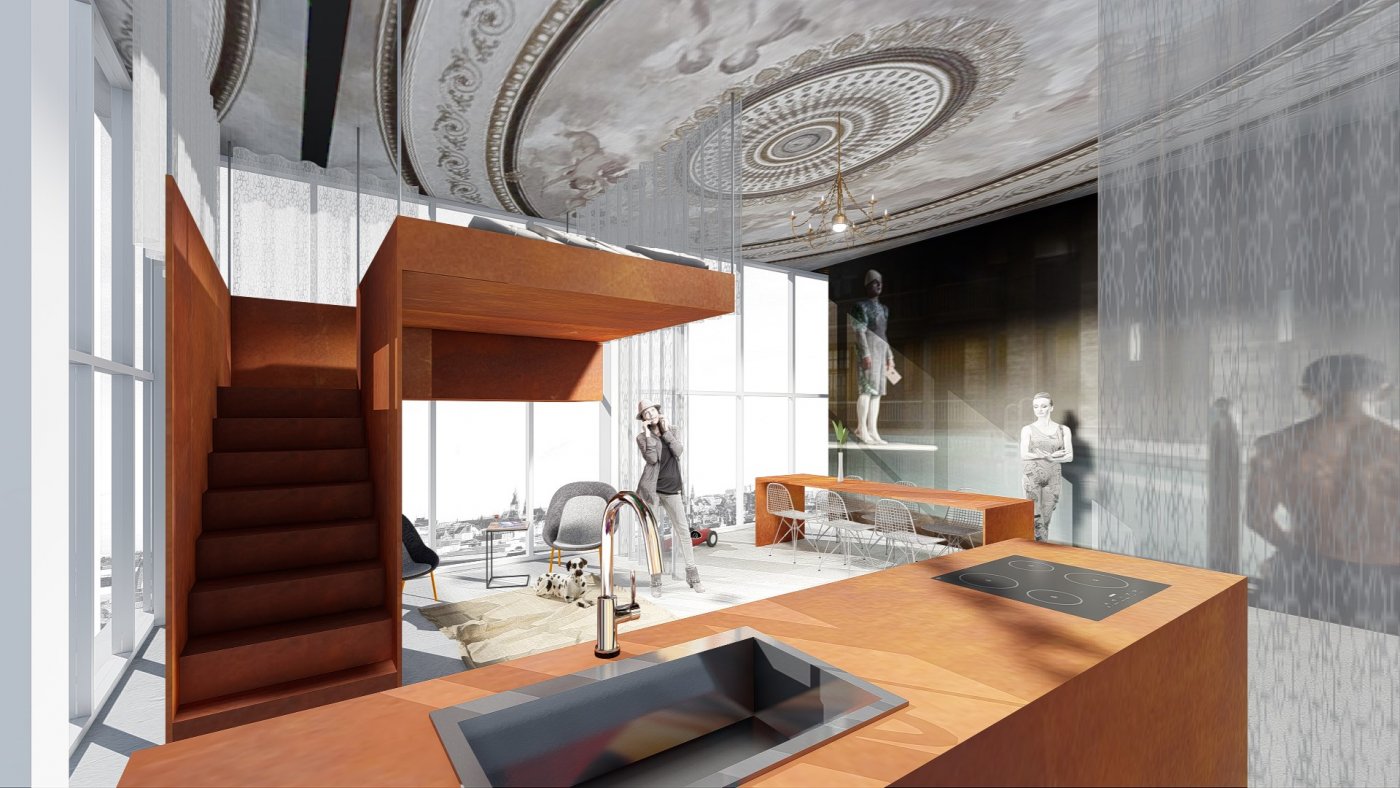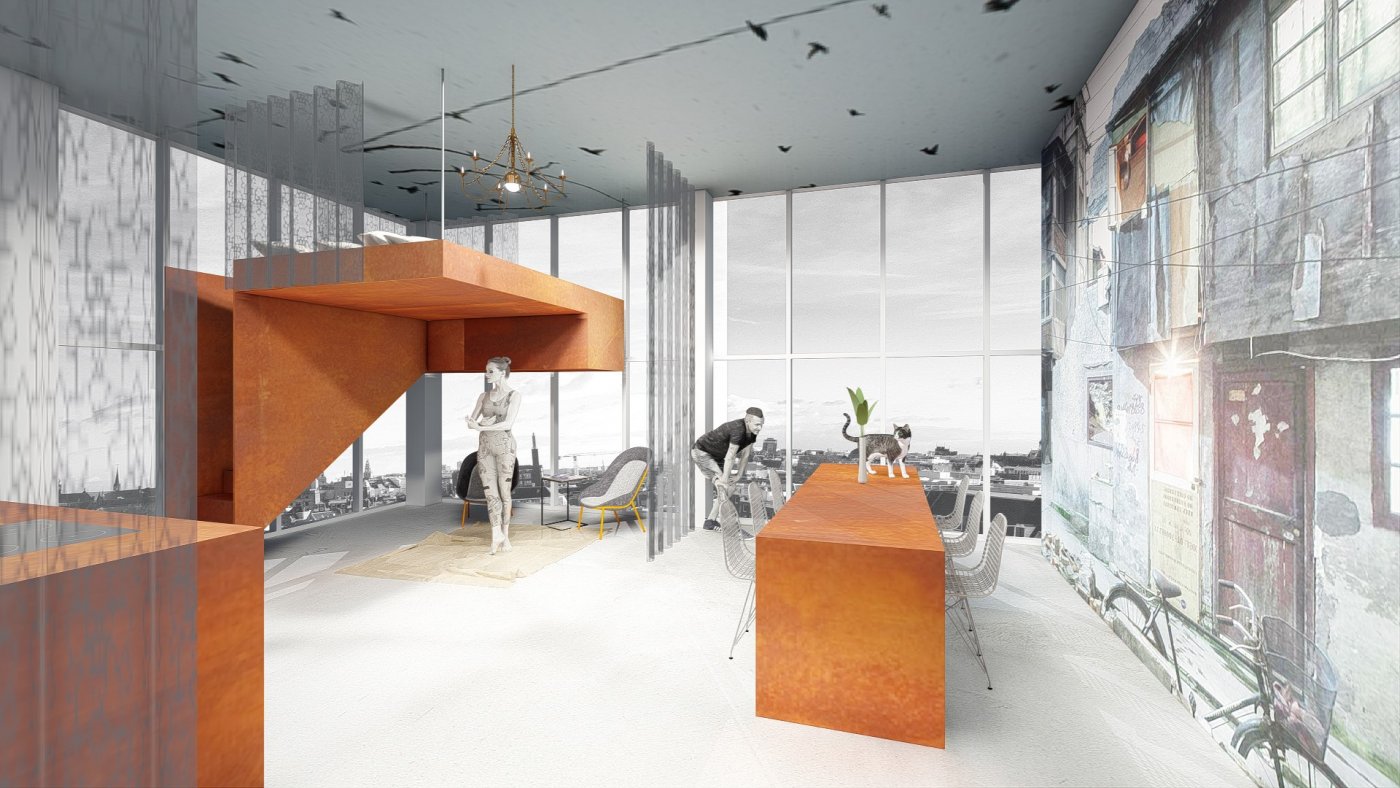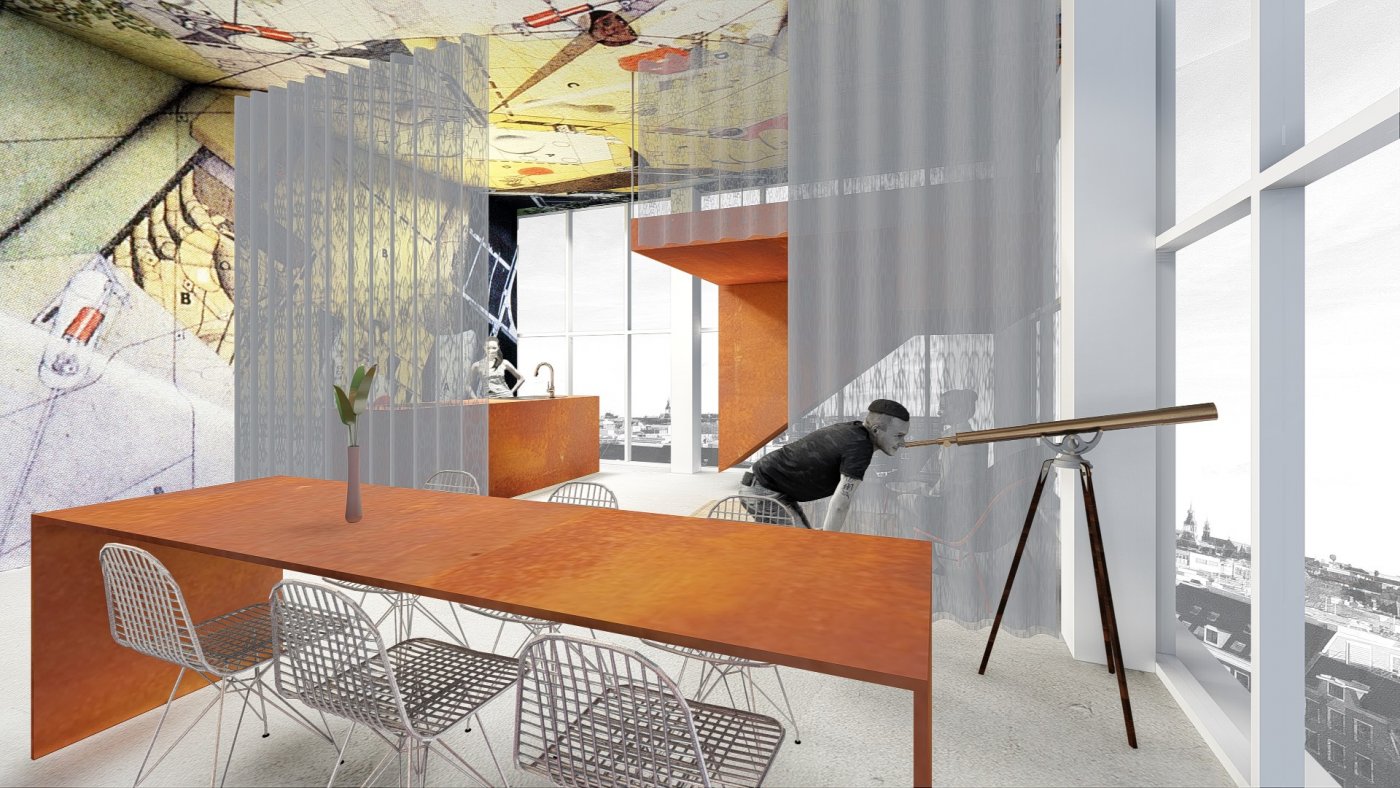 CHANGE THE SCENE
Never before could so much colour be seen as in the new accommodation tower on Strijp-S; the shades which differ from floor to floor stand out from afar. Behind the completely glass facades, expressive images on walls and ceilings invoke their own atmospheres.
Once inside your own condo, the luxury, spaciousness and wide view surprise you. You are on stage! While below lies the vastness of bustling Eindhoven, you are up here. Your condo is the counterweight for the world outside.
The characteristic furniture is exactly what you need: a simple kitchen island, a large table at which you can work and eat, and a high bed, no more. Semi-transparent curtains together with a well-designed light scheme can change the room altogether. Close or open a curtain and you've landed in a new scene, it feels like you are somewhere else.
You reach your bed via a small staircase, in a lowered part you can walk under it without bumping your head against the ceiling. Opaque curtains around your bed make it possible for you to seal off your bed from the rest of your condo. You can stand under your bed, but you can also place your table there and enjoy the view of the big city while sitting at it.
In the extension of the entrance is the off-stage part: a wet room and a small storage space. On the other wall you will find a wall cabinet for your shoes, your clothes and other accessories.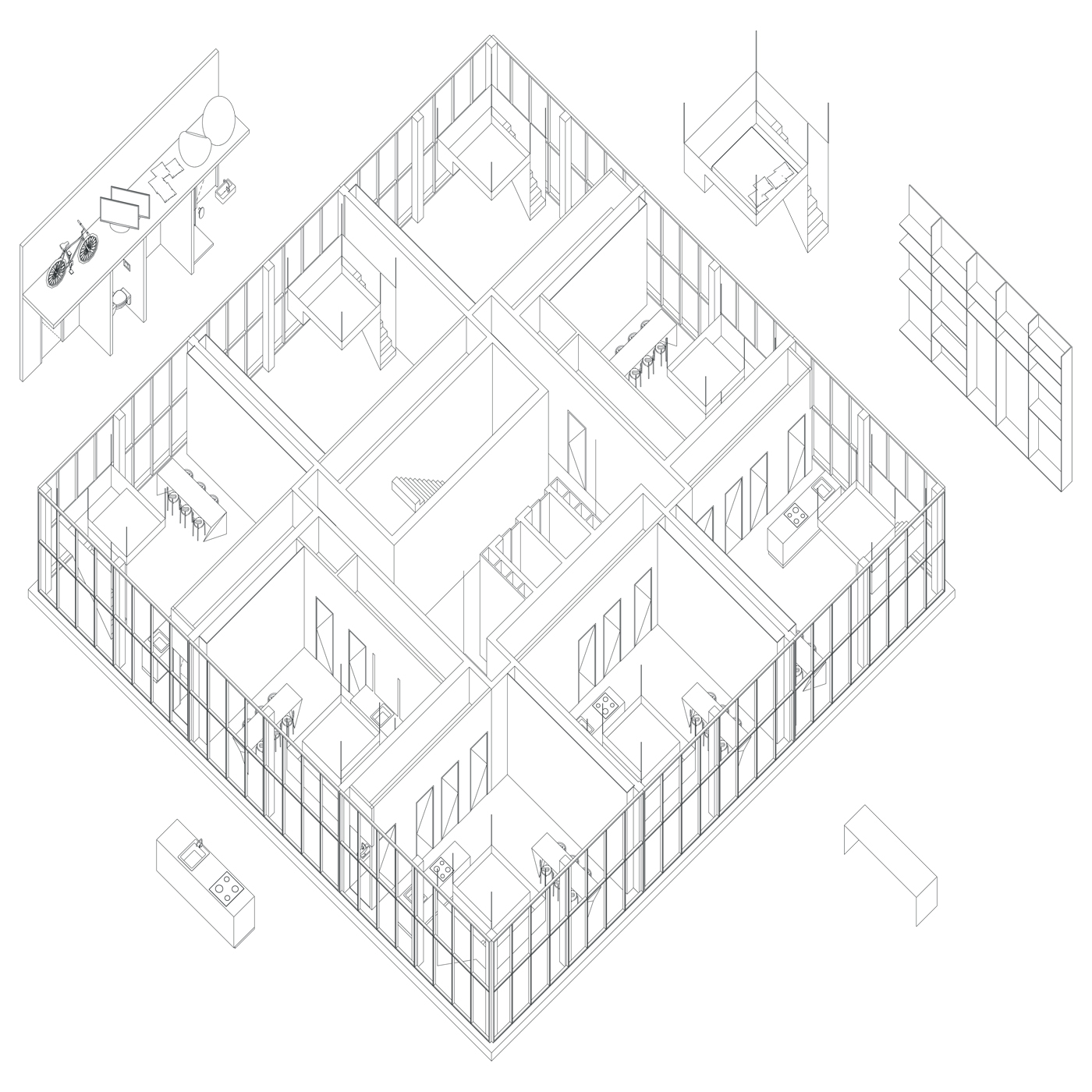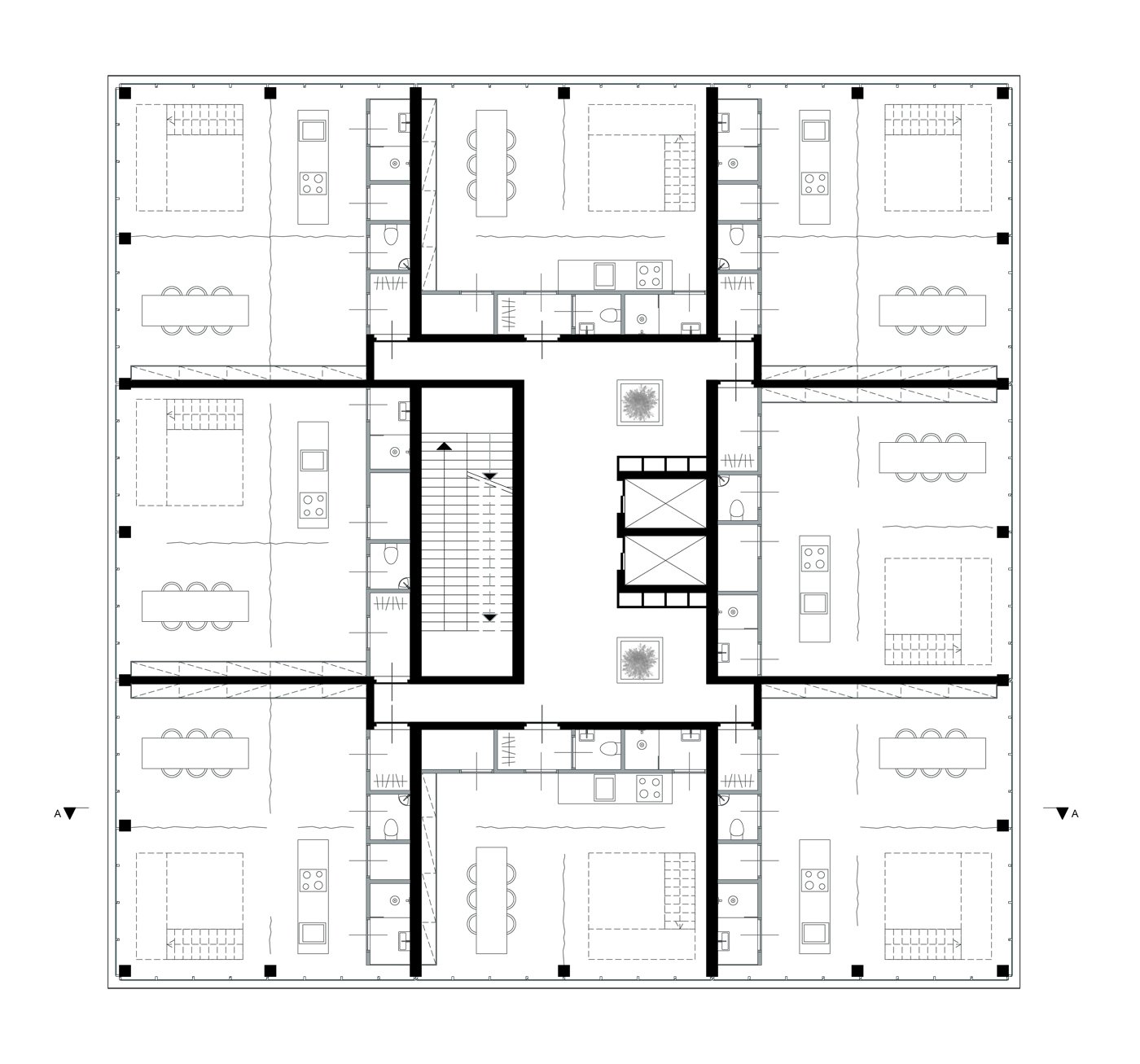 The submissions have been evaluated by a professional jury consisting of the following members:
Jurgen Bey, head of Sandberg Institute and designer at Studio Makkink & Bey (Chairperson)
Pieter Buijs, resident of Strijp-S
Marcel van Dooremalen, Senior consultant policy and strategy Sint Trudo
Jarrik Ouburg, architect Office Jarrik Ouburg
Lonny van Ryswyk, designer Atelier NL (Trudo Lab)
Anne van Strien, Space creator at BEECKK advisors for spatial development (Trudo Lab)
Besides IAA Architects, there were four other nominees:
Z Condo: Joris Gesink (JSQ Studio). Team members: Sebastiaan van Heusden and Quinten Boumann
CORE-living: Tim de Graag. Team members: Mark Gijsbers
Ilse & Oscar: Branka Vuksanovic. Team members: Monique Luttikhuis and Una Duric
Living in an urban fortress: Riemer Postma (nieuwe architecten). Team members: Joep Windhausen, Roderik van der Meulen, Nico Leferink