A school that blends into the district
CBS De Haven
In 2007, the route of a new junction in Doetinchem was established in the Lookwartier 2007 urban planning scheme. This road, called Ruimzichtlaan, would run over a part of CBS De Haven primary school. It was decided to demolish the building and build a new school on the east side of the Ruimzichtlaan. The new building should have a traditional shape, to blend in with the surrounding buildings: two storeys with roof, and a representative facade parallel to the Ruimzichtlaan. The accompanying school area had to consist of three parts: one part for Kiss & Ride to safely drop off and pick up children, one paved and one unpaved part for playing. The paved schoolyard had to be slightly bigger to allow for a future expansion of the school.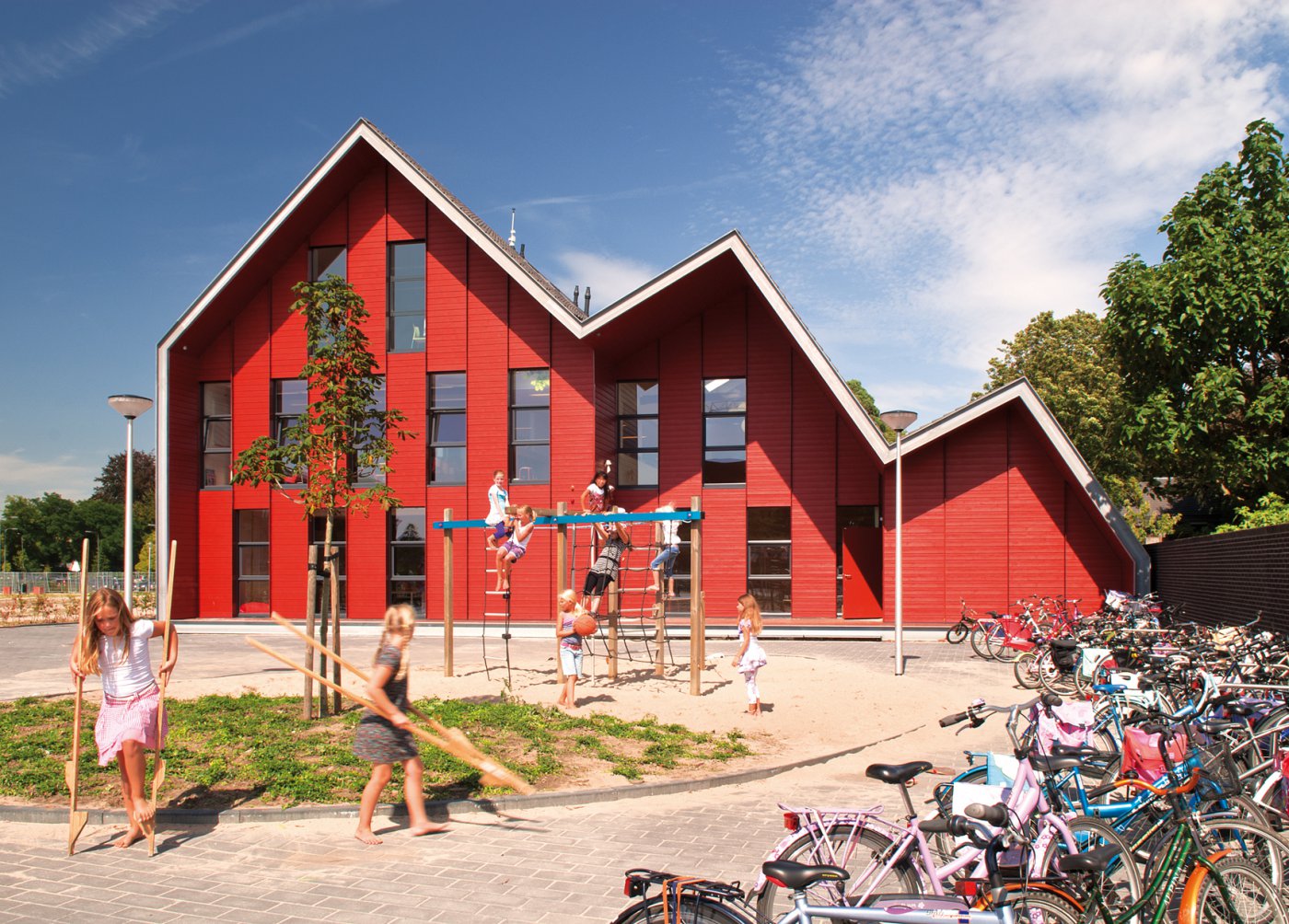 AN EDUCATION HOUSE WITH A FOLDED ROOF
CBS De Haven is a primary school with seven classrooms, a playroom, a group space for out of school care and childcare. The main entrance on the south side of the building gives access to the central hall, which serves as a meeting space, stage and display room. The hall is two storeys high and has a grandstand staircase. The junior classrooms and the out of school care space are situated on the ground floor, the other rooms are situated on the first floor. The space underneath the roof on the second floor is utilised as a staff room, installation- and storage space.
The roof consists of three uneven folds and extends in height to the side where the plot is adjacent to the backyard of the neighbouring house. Due to the freestanding location of the new school, the front facade is determining in its appearance. To increase the contrast with the front facade and emphasise the fold structure, the roof tiles in the facade on the Ruimzichtlaan rund all the way down to the ground.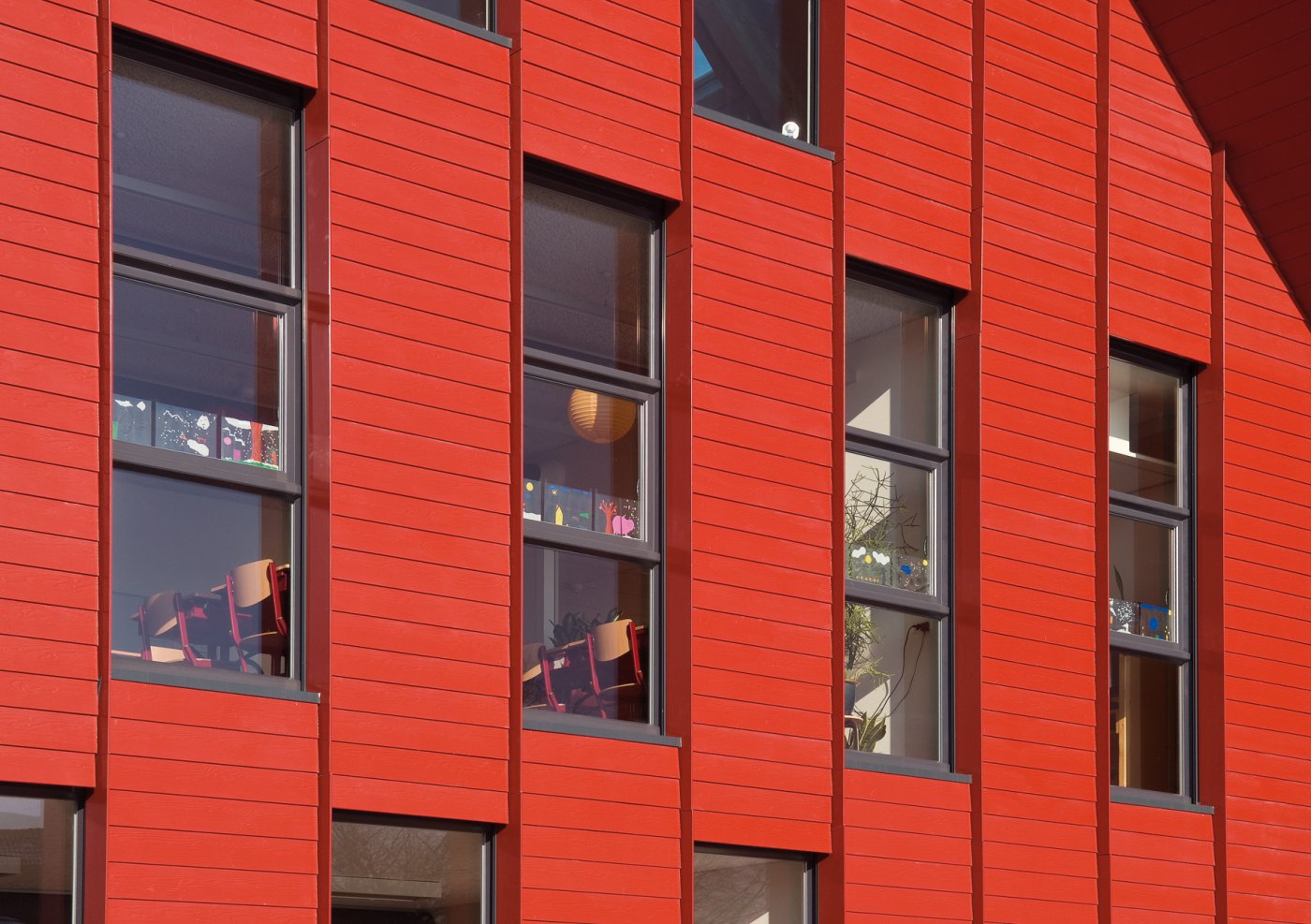 Pleasant climate and low energy costs
There is underfloor heating in the building, providing a pleasant climate for the children who often play on the ground and are also close to the floor when standing. The heating, which can be connected to a thermal energy storage system in the future, ensures low energy costs.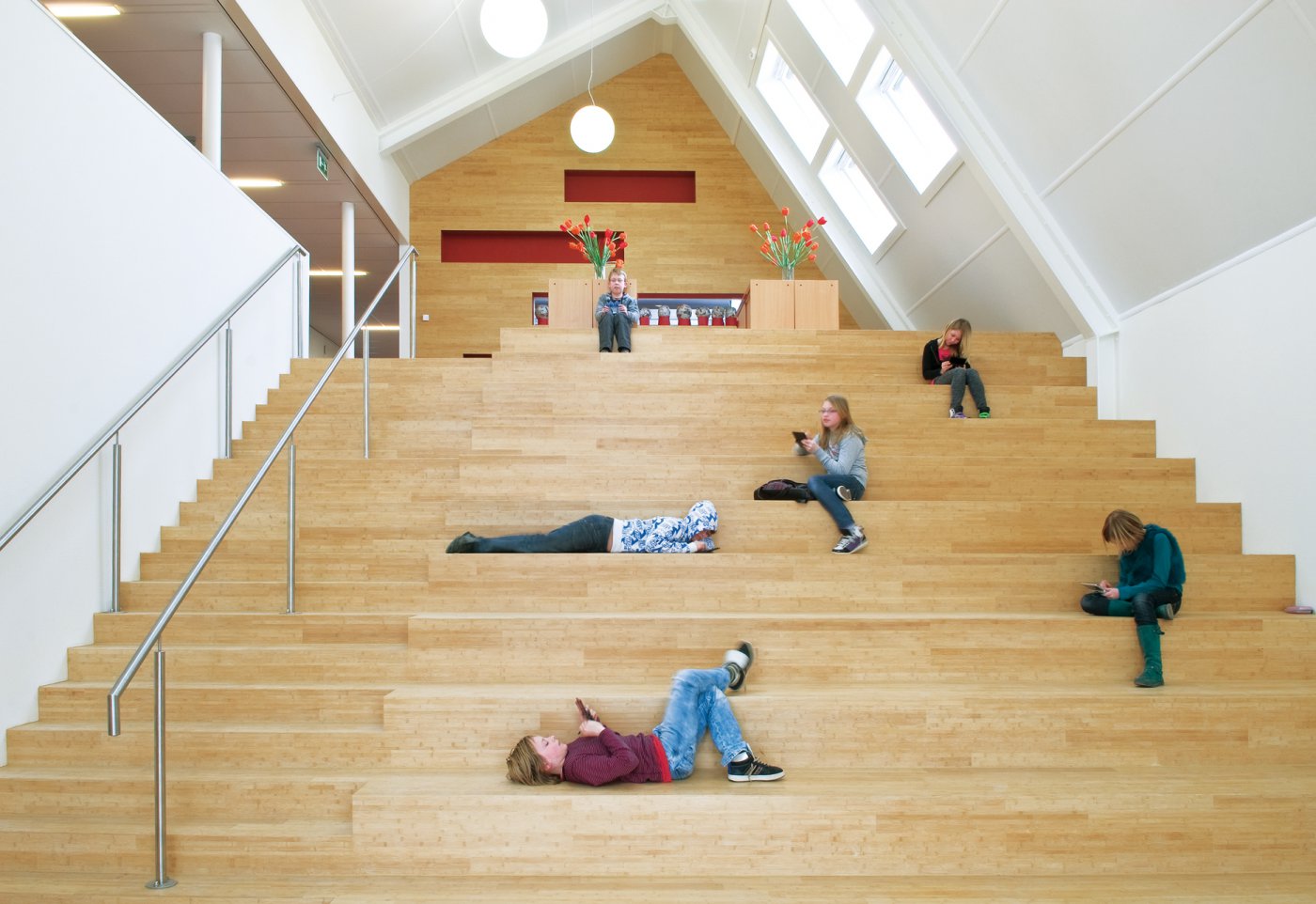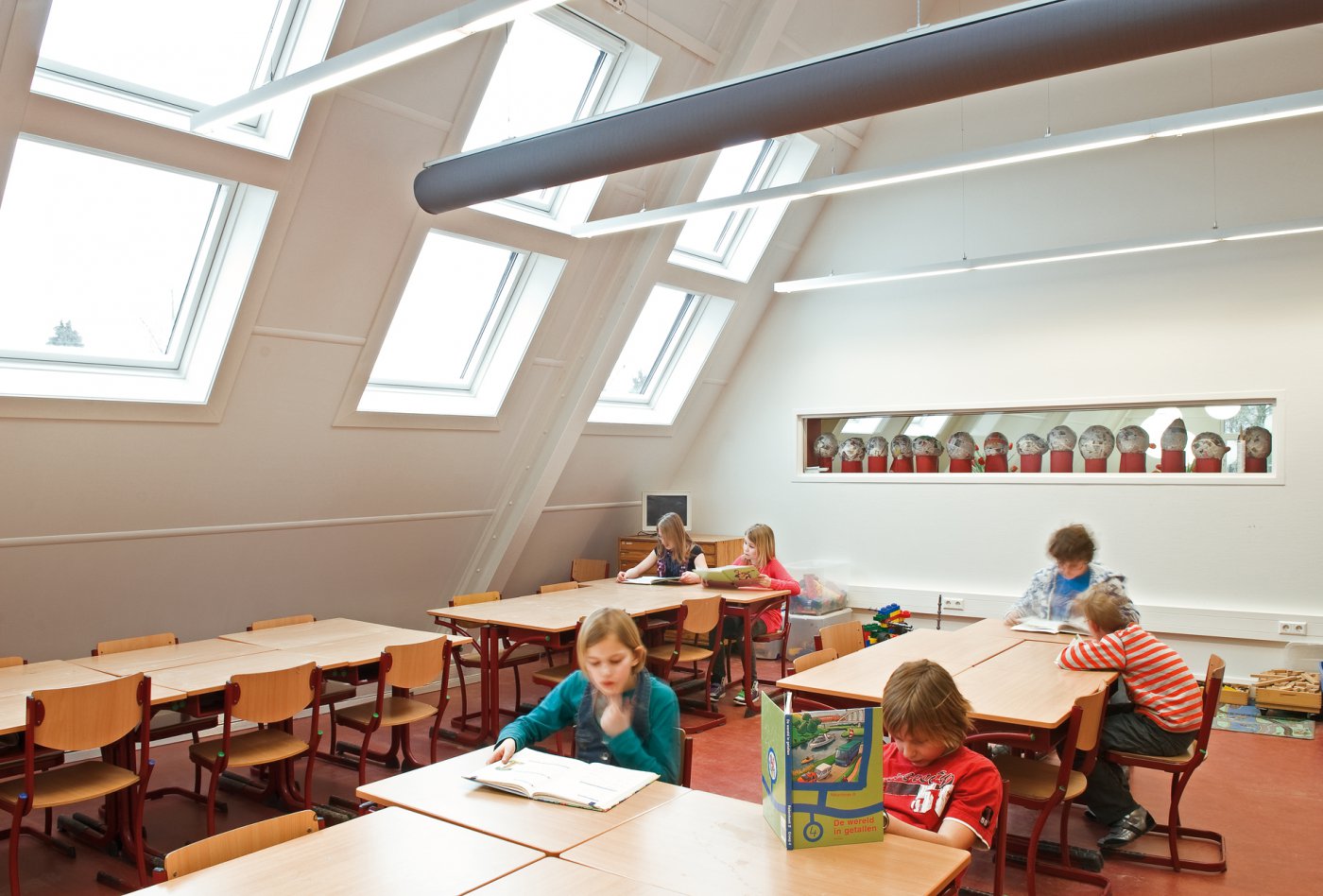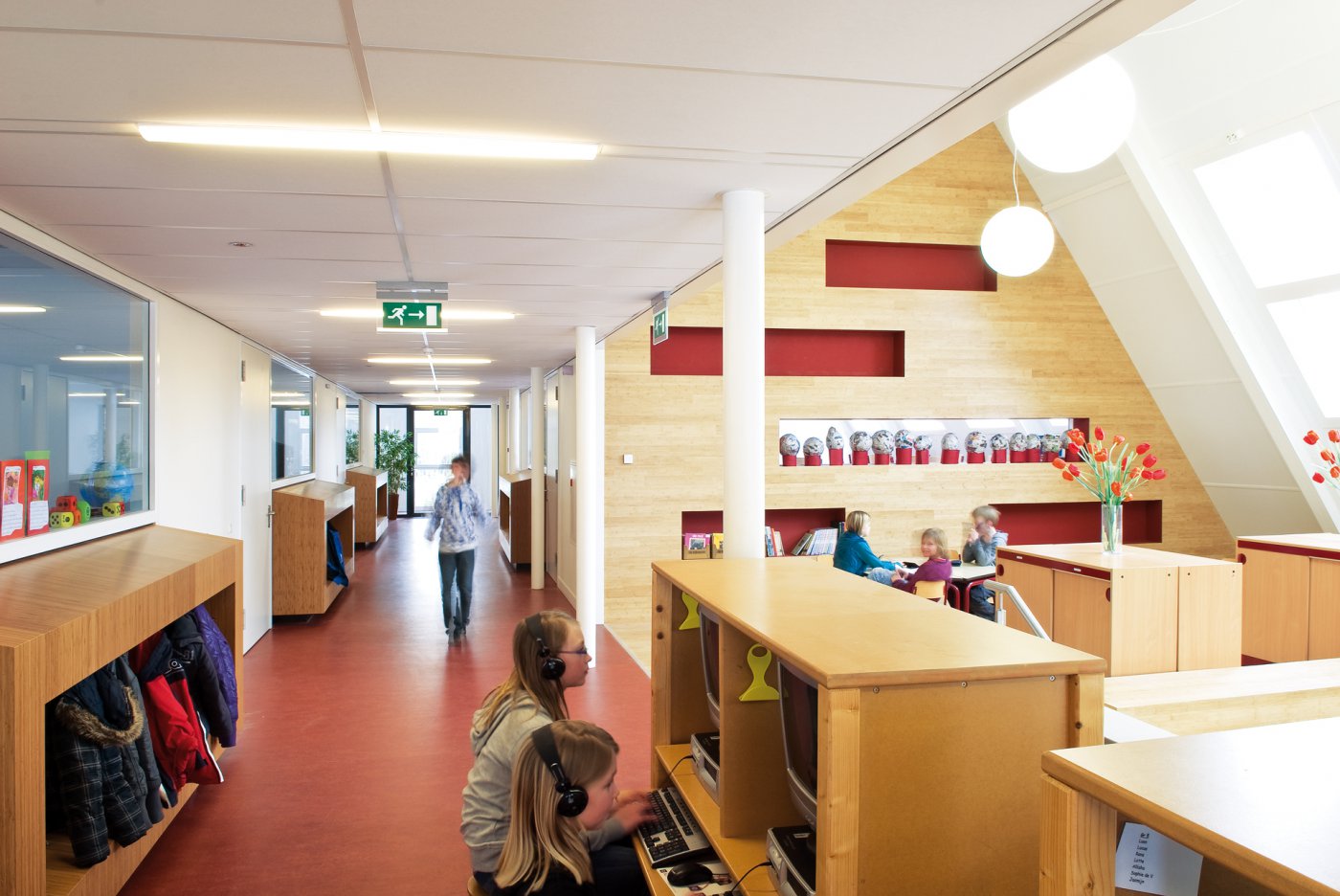 Play, drop off and pick up
The schoolyard for the middle and upper classes is situated on the south side, the junior classes and out of school care have their own playground on the north side. There is also space to play in the patio adjacent to the out of school care space. On the south side of the school there is a Kiss & Ride zone which functions as an extended playground during the breaks. A private car park for staff is situated on the north side.