Burn-out clinic on historic estate
Limes Schlossklinik Schloss Heiligenhoven
Spread across Germany, Limes Schlosskliniken AG offers high-quality medical treatment to people with stress-related illnesses such as burnout and depression. On its own estates with historic mansions, Limes Schlosskliniken AG is building detached pavilions with approximately 120 patient rooms per location. After restoration, the existing mansions will serve as spaces for general facilities. As the second establishment in a series of six, a Limes Schlossklinik will be opened on the grounds of Schloss Heiligenhoven in Lindlar, 30 km east of Cologne.
HEALING ENVIRONMENT CONNECTED TO NATURE
The principles of a 'healing environment' form the foundation for every Limes Schlossklinik: a carefully designed environment has a positive influence on the health and recovery of the patient. The location is always chosen so that patients are close to nature, but can also experience the historic environment of a mansion, which stands for protection and safety. This provides the patients with the necessary stability and supports the healing process.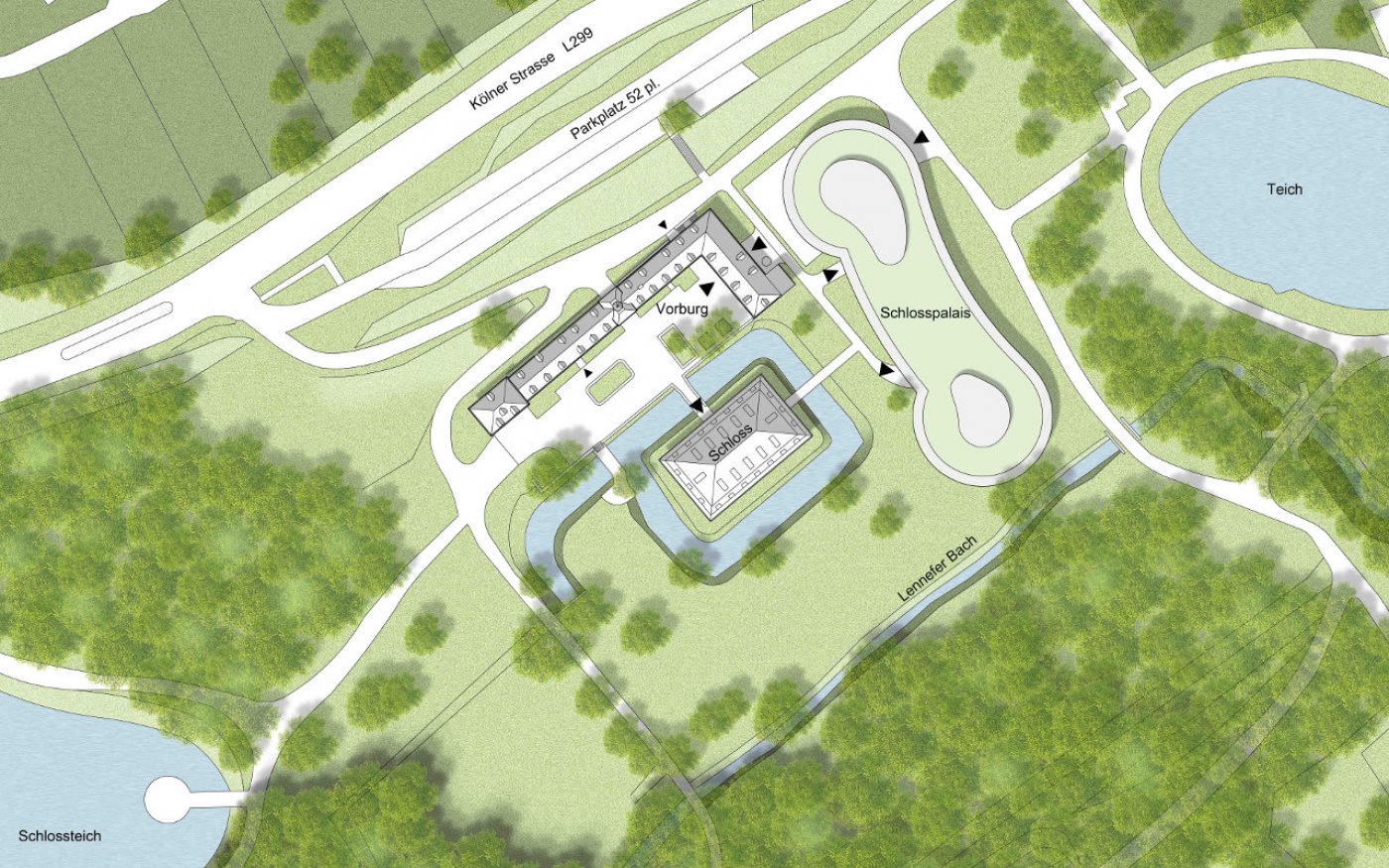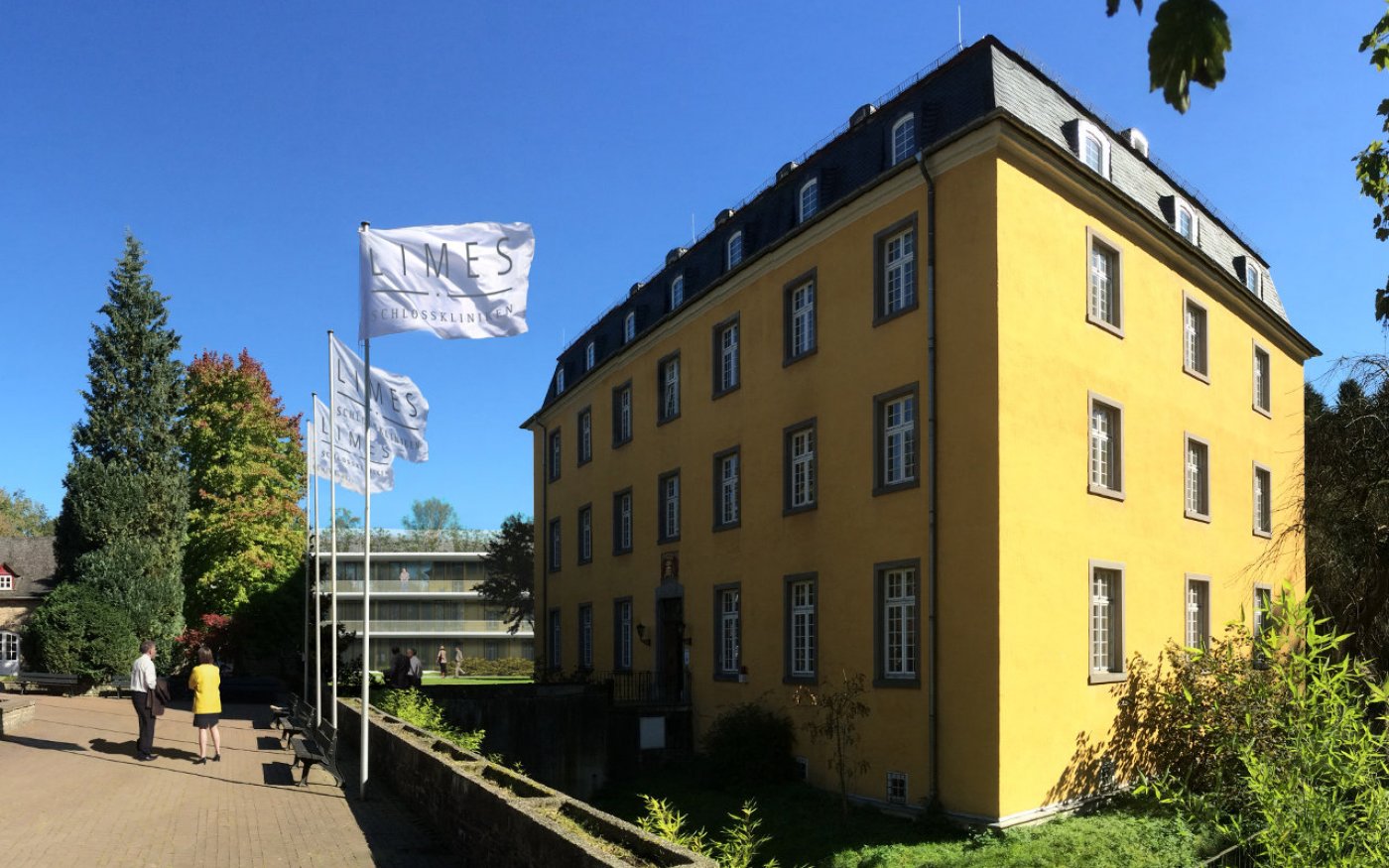 Three buildings in a landscape park
The clinic in Lindlar is located in a landscape park and consists of three parts: the outer castle (Vorburg), the mansion (Schloss) and the pavilion (Schlosspalais). The outer castle holds the main entrance, a polyclinic, room for a doctor on duty, therapy rooms and a lecture room. In the mansion, the reception is located as well as a lounge, library, offices, therapy rooms, doctors' rooms and 11 patient rooms. Via a new bridge over the moat, the pavilion, which holds 107 single and double patient rooms with the luxury of a four-star hotel, can be reached. Apart from the patient rooms, the pavilion also has lounge areas where patients can meet one another as well as rooms where patients can receive nursing support and multifunctional rooms, therapy rooms, doctors' rooms, a restaurant and a space for sports and wellness.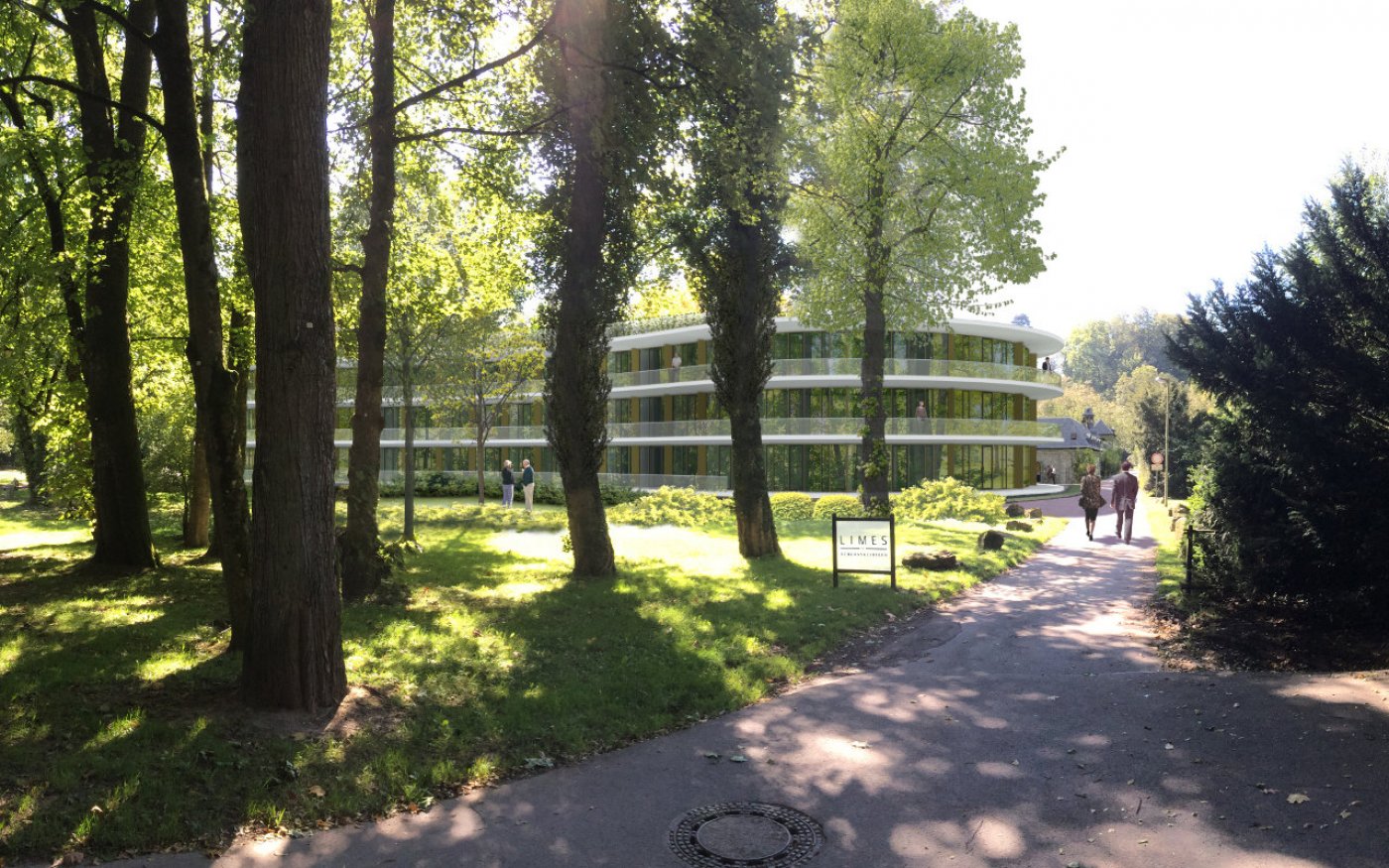 Recognisable and transparent pavilions
To warrant the Limes Schlosskliniken AG brand, the pavilions are conceptually, optically and functionally comparable. Transparent facades provide daylight and a connection with the surrounding nature. Colour has been applied in manifold and each pavilion has a clear layout with accompanying orientation. Because of the contrast between the modern architecture and the historic building, the new building does not compete with the existing historic mansion. On the other hand, the organic design ensures that a pavilion merges seamlessly into its natural surroundings.