A transparent lab in the middle of the greenery
Maxon Motor
Swiss high-tech company Maxon Motor is world leader in electric micro motors and components for i.a. medical equipment, the automotive and the aerospace industries. Since 1977 the company has a branch in Enschede. When the property has become too small because of a steadily growing market and an extension in 2000 appears to be no satisfactory solution, they decide to go for a new construction elsewhere in Enschede in 2011. The company chooses a prominent location near major highways, where a building was to be constructed which would radiate that Maxon Motor creates first-rate high-tech products. In the design, there was to be space for office and production functions, such as the manufacture of custom-made solutions and the assembly of prototypes. To overcome the traditional distinction between office and production, a neutral working environment was required. In addition, the building was to be flexible, energy efficient and environmentally friendly.


A TRANSPARENT BUILDING ON THE ENSCHEDE MEADOW
On the edge of Enschede, along the Westerval arterial road and near the A35, the transparent new abode of Maxon Motor is situated in a park-like setting on industrial estate the Josink Es (Josink Meadow). The Ground Floor of the two storey detached building houses the entrance, an exhibition-, storage- and assembly space and a production facility in the form of a cleanroom. Connected by a prominent, centrally placed staircase which leads to an informal meeting place for all employees, the first floor contains an open and flexible office space which is focused on the New World of Work.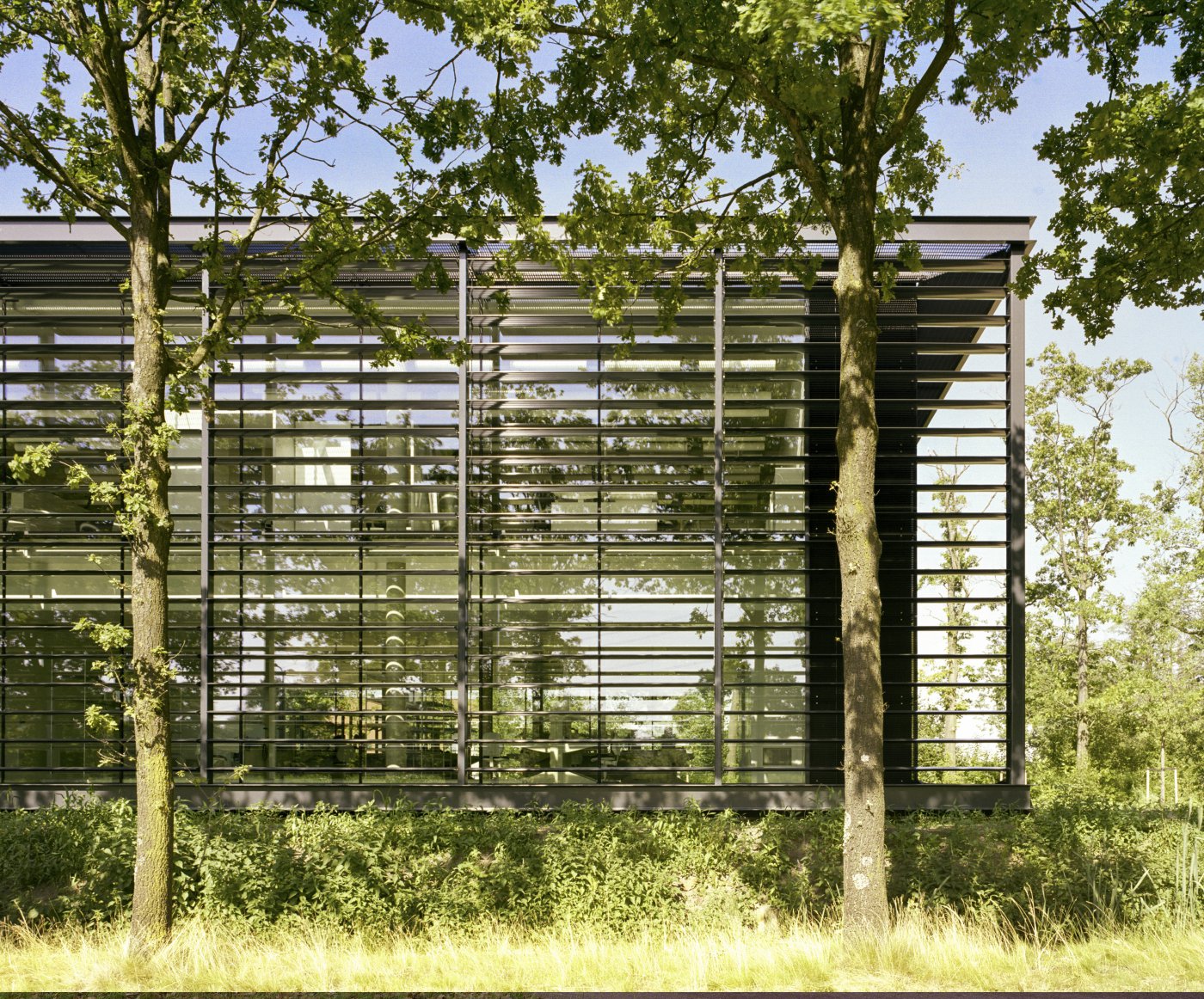 The north and south facade are completely transparent and show the passerby activities in the building. In addition, because of the glass, there is a high level of illumination which is necessary for the work and also reduces the energy consumption for artificial lighting. The south facade has louvers in order to naturally regulate the light and temperature in the building. The east and west facade are completely closed and covered with grates. Behind this, storage and technical rooms are situated. The advanced technical installation is integrated into the building, so that the roof is fully available for solar panels.