Heritage for the future
Master plan 'Full Steam Ahead'!
In October 2020, the Hof van Twente municipality bought the 14-hectare site of the former Twentse Steam Bleachery in Goor with the aim of developing the area into a place where it is pleasant to live, work and relax. A number of characteristic business premises were to be preserved. In order to achieve this goal, the municipality held a closed competition in the spring of 2021 with the task of developing the master plan 'Full Steam Ahead!'
They were looking for a stimulating plan on the basis of an apt area analysis and the involvement of residents, businesses and partners. A look ahead into the way the municipality could achieve implementation of the vision within the next 15 years was also desired, with a specific eye to the financial and technical feasibility of the plan.
Together with Eelerwoude from Goor, IAA Architecten submitted a plan that came in second in the competition.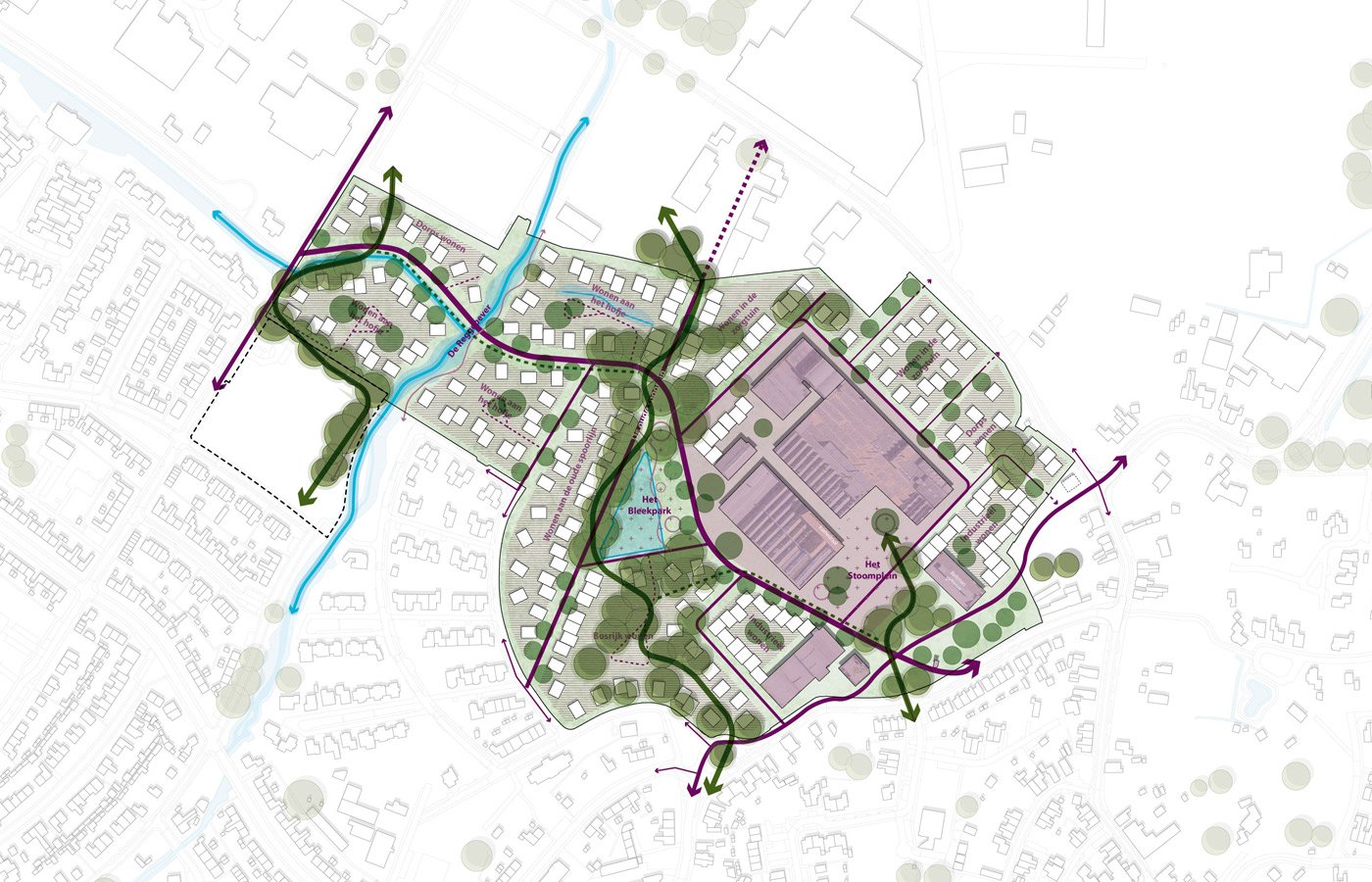 FLEXIBLE AND FUTURE-ORIENTED PLAN
The core of our plan was that development could only take place after the local community had been activated. In our view, a healthy and supported plan is a prerequisite for success, rather than designing a plan and then trying to 'sell' it to the parties involved. An important part of our proposal was therefore a strategy to activate the local community from day one. Besides an open day on the site itself, we would also use our own serious game Stadtego.
Crucial core values
In order to achieve a healthy and broadly supported vision of the future, the following core values are crucial in the process and in planning:
nature-inclusive: the future is nature-inclusive. Developing together with nature leads to new living environments and space for both nature and man with a pleasant public space.

flexible: the future cannot be predicted. A master plan must be based on jointly formulated frameworks that offer room for flexibility. This creates a viable plan that is open to initiatives from both the market and the community.

supported: the future is something you build together. A master plan must offer room for initiatives and be able to move with them. By deploying serious gaming in the participation process, we can move from individual wishes to shared ambitions.

future-proof: The future is uncertain, with ever more weather extremes, for example. This calls for a future-proof manner of development, layout and management.
Strategy for area development
Area development is a complex long-term process. Summarily, in Goor it concerns opening up the area, activating it and making it accessible, as well as creating the conditions to give the area a quality boost. From there on, development can take place organically and in phases, whereby the cultural history is restored.
We choose to break away from mono-functionality and opt for diversity with a mix of living and working environments. Multiple players within an area development ensure an economically resilient position and liveliness. Providing space for local initiatives and not programming too tightly makes it economically and technically feasible and makes a supported plan possible. Of course, this must take place within the framework that we have created together with local stakeholders. That is why participation is a basic ingredient in our approach.