Lochem signs agreement with De Groene Fabriek
Councillor Trix van der Linden signed an important agreement on behalf of the municipality of Lochem together with Theo de Bruijn on behalf of the consortium De Groene Fabriek (The Green Factory). After a previous exploration in the Kanaalzone in Lochem, this is the start of the follow-up assignment. The consortium will further develop the identified opportunities in the coming year to make the business park along the Twente Canal energy-neutral and circular.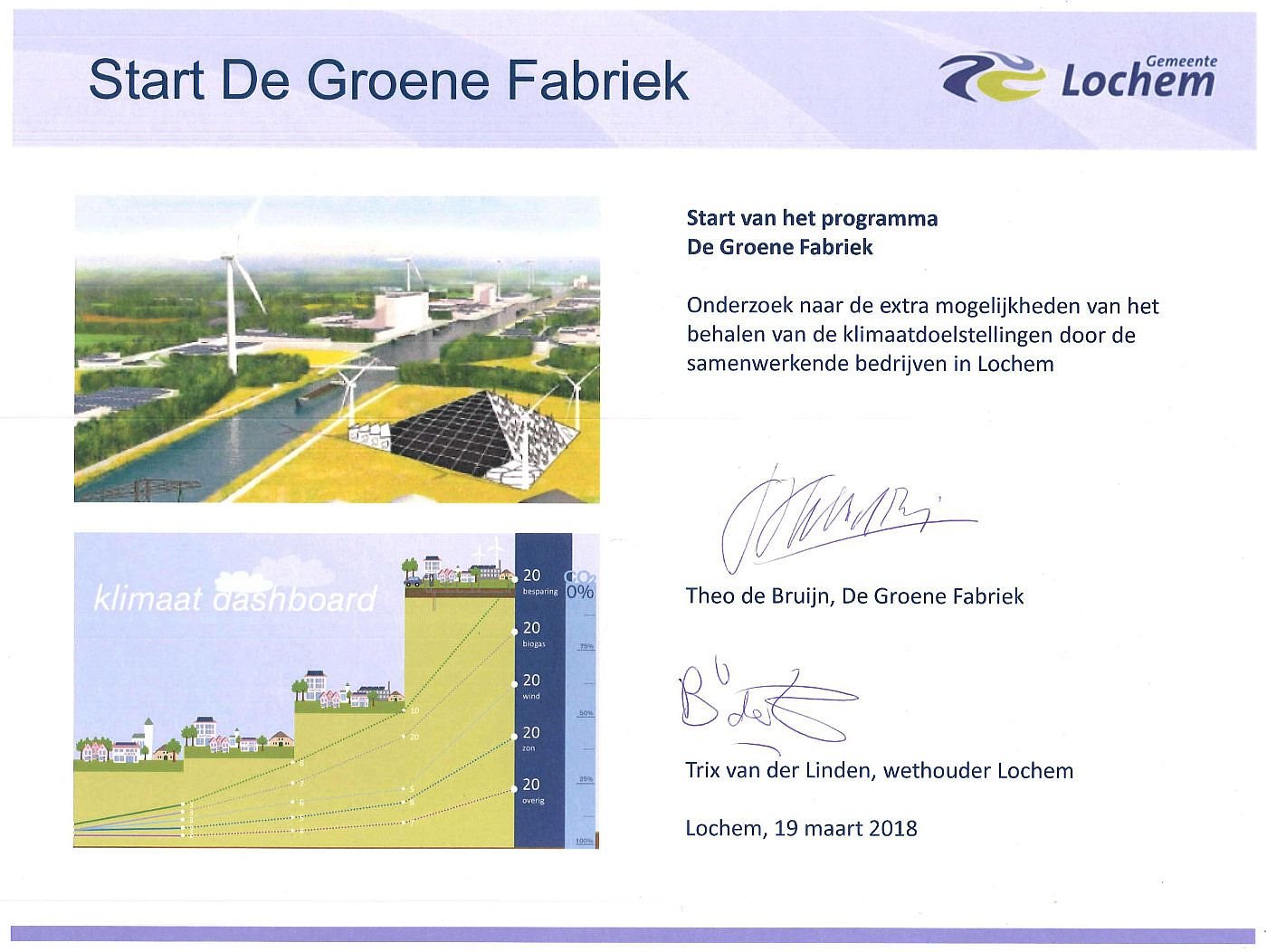 Stimulating climate control
De Groene Fabriek wants to encourage companies in Lochem to work together for climate control. The larger companies often have their own sustainability programmes. By working closely together, De Groene Fabriek expects that CO2 emissions can be reduced even further. Commitments are laid down in an agreement.
De Groene Fabriek is a group of expert companies: IAA Architecten, ENGIE, Pure Energie, CCS Energie Advies and Circulus Berkel. In 2015, IAA Architecten – Urban Planning and Landscape won the Eo Wijersprijs with the concept of De Groene Fabriek. Subsequently, the consortium has been formed. The province and the municipality have contributions available for the implementation.
Climate-proof due to collaboration
The municipality of Lochem and the municipalities of the Cleantech region want to be energy-neutral by 2030. Companies and industry are indisputably part of the energy system and without their cooperation, this ambition is unachievable. In Lochem, the share of business energy consumption is more than three-quarters of the total. Climate-proof business is therefore a huge challenge, especially within industry.
Unique approach
It is imperative that local authorities cooperate with companies in order to arrive at a collective approach aimed at the longer term. The municipality of Lochem is taking a leading role in this by supporting De Groene Fabriek.